If you have low mains water pressure and are fed up of standing under a gentle trickle of water that masquerades as a relaxing shower, you might think there is not much you can do about it. You will be pleased to know that you are wrong!
Salamander Pumps have a mains booster range of products aimed at creating a simple solution to boosting your mains water pressure and flow which can often feel like a rather complicated problem.
The range, comprising 11 different products, features inline pumps and accumulator tanks, and is designed to provide a quiet, lightweight and easy-to-install solution to all domestic and light commercial mains water boosting needs.
This range is designed to make selecting the right product for your needs nice and simple
The new mains boosting range includes:
CombiBoost – an entry level inline pump boosting mains water flow up to 10 litres per minute.
HomeBoost – an intelligent inline mains pump, which recognises when water pressure and flow are low and automatically boosts the incoming mains water up to 12 litres per minute.
AccuBoost – a range of accumulators which store mains, cold water at pressure, before releasing the water into the system when an outlet is opened.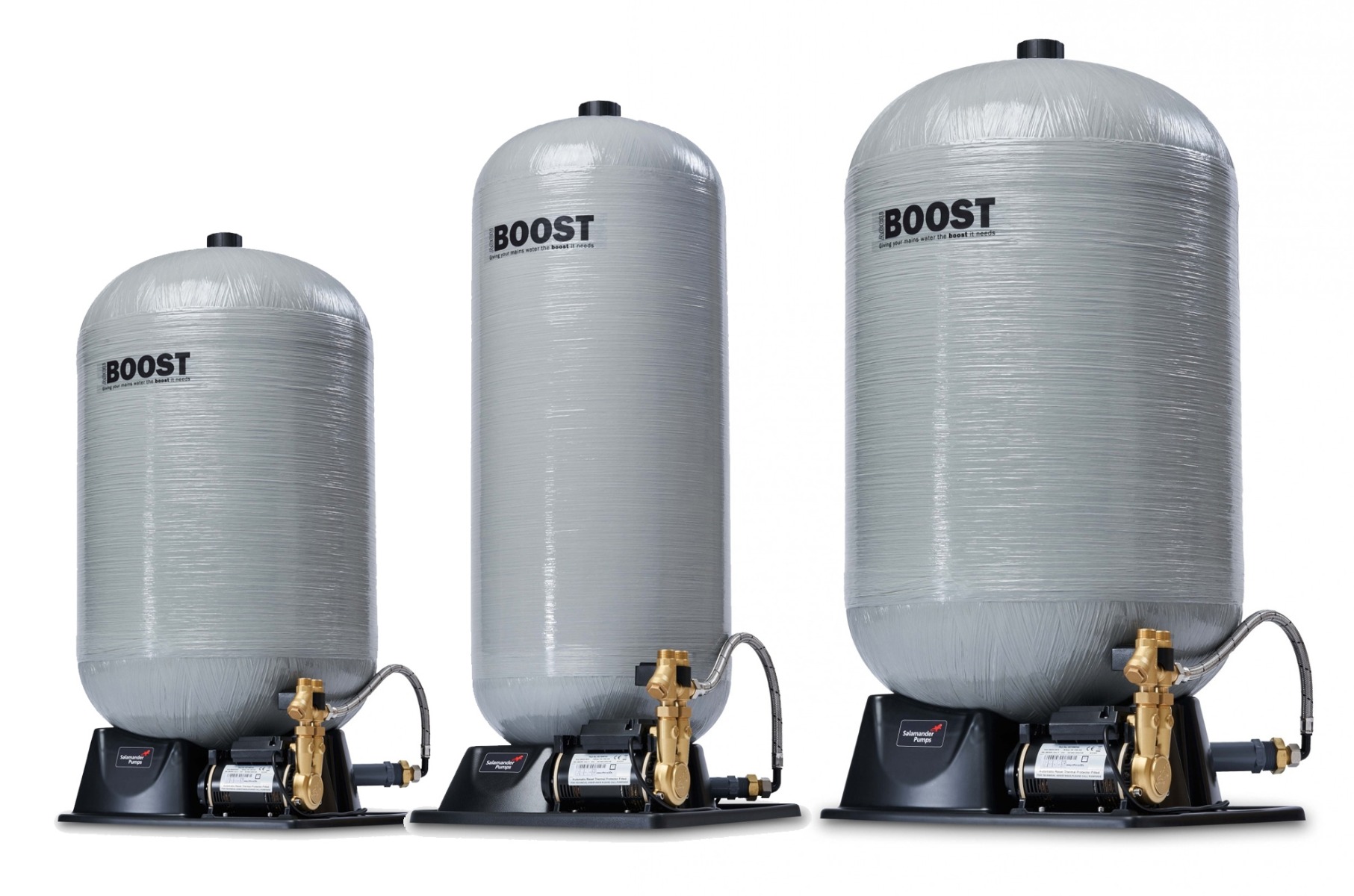 AccuBoost will improve mains water performance in domestic and light commercial installations where there is poor water pressure and flow. This range will offer a solution when the demand within the home for water is higher than the supply currently available. This can often happen at certain times of the day or when multiple individuals require water at the same time.
Salamander's AccuBoost range comprises five different sizes and is available in pumped and unpumped versions.
Salamander AccuBoost 60 Pumped Accumulator
Salamander AccuBoost 120 Pumped Accumulator
Salamander AccuBoost 180 Pumped Accumulator
Salamander AccuBoost 300 Pumped Accumulator
Salamander AccuBoost 450 Pumped Accumulator
Salamander AccuBoost 120 Unpumped Accumulator
Salamander AccuBoost 180 Unpumped Accumulator
Salamander AccuBoost 300 Unpumped Accumulator
Salamander AccuBoost 450 Unpumped Accumulator
How do you know if you need pumped or unpumped?

Choose pumped when mains water pressure is less than 2.0 bar and/or mains water flow is less than 12 l/min. Also choose pumped if you don't know your mains water pressure and flow.
Choose unpumped when mains water pressure and/or flow are good but the demand for water is still greater than what the mains is naturally providing, this may occur during peak times when several people are in the shower at once
If you are still not sure what pump is right for you, Salamander have introduced an easy-to-use product selector to further help specify and source the right mainsbooster product.