Delivery Guide
Standard delivery is free with no minimum order charge to most mainland UK addresses - please keep reading for information on surcharges to certain areas.
Standard Delivery is usually delivered within 2-3 working days unless otherwise stated.
Next Day delivery is available on most products if it is marked as "In Stock" in our main warehouse.
Monday - Friday - If you order before 3.00pm we will be able to deliver your item the Next Working Day** should you select that option at the checkout.
Orders placed after 3.00pm Friday will still be delivered Monday if ordered before 11am Saturday Morning.
Saturday - If you order before 11.00am on a Saturday we will be able to deliver your item on Monday.
Sunday - Next day orders placed on Sundays will be shipped on Monday for delivery Tuesday.
Bank Holidays - Next day orders placed on Bank Holidays will be shipped the next working day for delivery the following day.

We send our orders from our warehouse via one of our couriers below, subject to stock availability and security checks. The delivery method used is based on the size, weight and value of the order.
Any parcel being delivered by courier will require a signature on arrival. If you are not at home the driver will leave an information card
Some bulky and palletised goods may still incur a delivery charge. Surcharge areas in the UK will also incur additional charges. Any delivery costs will be be calculated at the checkout.
**Excludes bank holidays. Orders placed at these times will be processed the next working day for delivery the following day.
Please view our International Delivery Guide for non UK delivery information Royal Mail Small (Under 2kg and worth less than £50) UKMail Parcels and large items Palletways Large and bulky items delivered on a pallet
We may also use additional delivery carriers where necessary in order to provide the best service we can.
Surcharge Areas for Parcel deliveries (see furthre down for palletised surcharge guide).
Our carriers apply a surcharge to certain UK Islands, Northern Ireland and the Scottish Islands, unfortunately we have to pass this charge on to our customers. Whilst we do not want to pass on surcharges to our customers we are unable to absorb the full cost of sending to these orders.
When you place an order with us, we like to make sure our delivery charges are plain and simple to understand.

Customers in delivery Zones 2 and 3 will be subject to a surcharge of £6.50.


These deliveries will be on a 48hr service, Details of these zones are below.
Zone 2
The Highlands and Islands of Scotland – postcodes IV, HS, KA27-28, KW, PA20-49, PA60-78, PH17-26, PH30-44, PH49-50, ZE.
Zone 3
Northern Ireland, Isle of Man and Isles of Scilly – postcodes BT, IM, TR21-25.
Channel Islands – postcodes GY, JE
Scottish freight will be sent via a 24 hour courier service, however due to the distance travelled it may take 48 hours before delivery is made.
Glasgow, Edinburgh, North Wales, Truro, Ireland
Parcels sent to the areas listed which have been despatched in more than one box, may be split up in transit and could arrive with a day's difference in the delivery.
Please note – items over 1.4m are manually handled through sortation, this can cause the item to take up to 48hrs to be delivered.
Surcharge Areas for Pallet Deliveries
Surcharge Areas

Areas with NO Surcharges

Zones 1,2
B, WS,
AL, BA, BB, BD, BL, BR8, BS, CB, CH, CR1,3,6,9, CV, CW,
DA9-13, DE, DN, DY, E77, EN6-12, GL, GU, HA10+,
HD, HP, HR, HX, IG7, KT7, KT10-24, L, LE, LS, LU, M, MK, NG, NN,
OL, OX, PE, PR, RG, RH, RM4, RM14-50, S, SG, SK, SL, SN, ST, SY1-6, SY8, SY11-14, TF, TW15-20, WA, WD, WF, WN, WR, WV
BH, BN, CF, CM, CO, DH, DL, DT, FY, HG, HU, IP, LA, LN, ME, NE, NP, PO1-22, SO, SP, SR, SS, TA, TS, YO, CF

London Congestion Charges
Surcharge of £10.00 – Zone 19
BR1-7, CR0, CR2, CR4-5, CR7-8,DA5-8, DA14-18, E1W, E3-13 E15-18, EN1-5, HA0-9, IG1-6, IG8, IG11, KT1-6, KT8-9
N2-4, N4, N6, N8, N9-22 NW2-4, NW7, NW9-11,
RM1-3, RM5-13
SE2-10, SE12-15, SE18-28, SM1-7
SW1A,
SW2, SW12, SW14-17 SW19-20,
TW1-14
UB1-11
W1B
W5, W7, W13

Surcharge of £16.00 – Zone 15
E2, E14
N1, N5, N7
NW1, NW5, NW6, NW8
SE1, SE11, SE16, SE17,
SW1, SW3, SW4, SW5-11, SW13, SW18,
W1-4, W6, W8-12, W14 (EXCEPT W1B)

Surcharge of £25.00 – Zones 17
EC, WC, E1

Areas with Surcharge of £10.00 – Zone 3

CA, CT, EX, LD, LL, PL, TN, TQ,
SY16-20, SY23, SY25

Areas with Surcharge of £15.00 – Zone 4

DG, EH, FK, G,
KA1-26, KA29-30,
KY, ML, PA1-19, SA, TD, TR

Areas with Surcharge of £50.00 – Zone 5

AB, DD,
IV1-28, IV3-32, IV36, IV40-49, IV52-56, IV63,
KW1-3, KW5-14, PA21-38, PA41, PH1-26, PH30-41, PH49-50
Same Day Click and Collect - Lowestoft Branch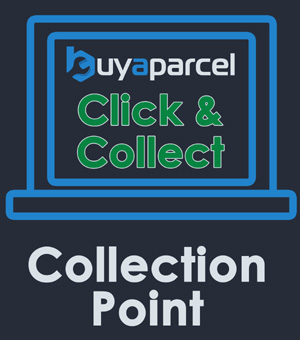 If your item is showing "In Stock" then you will be able to do a Same Day Click and Collect order from our Lowestoft Pinbush Road. Our cut off for same day collections is 3.00pm. After that the product will be ready the next day for collection. After 3.00pm you are welcome to do a Call and Collect order by phoning our trade counter on 01502 507666. If your item is in stock you will still be able to do a same day collection and payment.
Our store is open Monday to Friday 8.00am - 5.00pm so any orders placed over the weekend will be available for collection on Monday. Weekdays any orders placed up to midnight will be available for collection the following day. This excludes bank holidays.
Please wait for email confirmation your order is ready for collection from our store before you travel.
On collection we will require you to show a copy of your order confirmation, electronic or printed. In addition to this please bring photo ID which must be your passport or photo driving licence, matching the name on the PayPal/Amazon/Credit or Debit card used.
Collection option only available to NR and IP Postcodes.