Since the launch of 18V 'LXT' in October 2005, Makita have led the way in cordless tool innovation and technology. The continue to look for constant improvement in designing innovative products for the construction and garden machinery sectors and this will soon see the launch of a new generation of high power 40V Max 'XGT' cordless products.
To meet market demands for greater cordless power and to recognise the needs of professional contractors, Makita is expanding the cordless portfolio with the announcement of 40V Max 'XGT'. This new cordless tool and battery platform produces greater power for high demand applications, increased durability, and a wider range of products to offer the performance that is comparable to petrol engine or mains powered machines.
The current Makita LXT range utilises a single battery across hundreds of products which has revolutionised how work is done by contractors. The introduction of the Makita 40V Max 'XGT' range in Spring 2020 will not only deliver more heavy duty power but also has improved run-time, as well as being compact in size with an optimum weight for contractors to use throughout the working day.
What we can expect from the new XGT range.

High Battery Output – Innovative tool design and higher output from the batteries means a practical solution for those users with industrial tasks with a higher demand.
Future Proof – Makita will continue to develop and release new LXT tools for professional trade applications and the introduction of 40V Max will provide consumers with a genuine solution for high demand industrial applications.
Fast Charging – The XGT platform will be the most reliable on the market, delivering more power and run time in as little as 28 minutes charge time.
Smart Technology – The XGT range of tools and batteries come with a built-in program, providing digital communication between the battery and tool.
XGT will stand side-by-side with Makita's industry-leading 18V LXT System, giving industrial users a wider choice of battery-powered tools and equipment to achieve a truly cordless job site.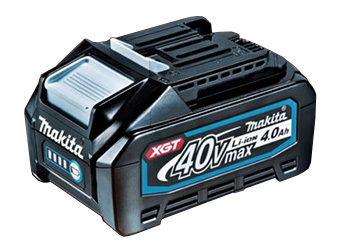 XGT batteries look similar in size to existing 18V LXT batteries, however 40V Max 'XGT' is a new stand-alone system with its own range of tools, batteries, and chargers. Offering 40V Max power, the XGT range has been engineered to meet these industry demands as the market pushes for the transition to battery power.
A range of 40V Max 'XGT' products has recently been launched in Japan with a plan to introduce the new product range in Europe for Spring 2020. More information will follow in the early part of 2020.
Makita's global focus is innovation; new technology and products that satisfy the needs of customers across many industries. Supported by heavy investments for today, tomorrow and the future, the market is and will be changing and Makita is positioned to lead this change.