From the world's first cordless drill in 1969 to the world's first 18V lithium-ion battery-powered tools in 2005, Makita has been the worldwide leader in cordless power tool innovation. Makita's LXT Cordless System takes you from power tools to outdoor power equipment to get the job done. Utilizing 18V lithium-ion batteries, the LXT battery system works with 225+ cordless products (as of 2020) making it the worlds largest compatible lithium ion system.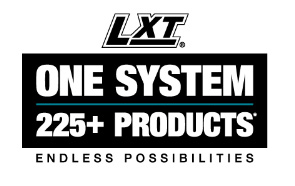 There are 4 key components that make up the LXT Advantage, providing you with the most advanced, durable and dependable 18V products on the market.
1 - A Makita 18V LXT Lithium-Ion Battery will give your cordless power tools unmatched performance and productivity. For the most demanding applications in extreme conditions, 18V LXT batteries deliver constant power and up to 50% longer run time. The batteries are also equipped with Star Protection Computer Controls™ to protect against overload, over-discharge, and overheating.
2 - To optimize battery life, the Makita Rapid Optimum Charger communicates with the battery's built-in chip throughout the charging process and actively controls current, voltage, and temperature. A built-in fan circulates air through the battery during the charging process to cool the battery for faster charge time. This all adds up to 3x faster charging meaning less down time on the jobsite.
3 - Makita-built Brushless Motors eliminate carbon brushes, enabling the motor to run cooler and more efficiently for longer life. The electronically-controlled brushless motor efficiently uses energy to match torque and RPM to the changing demands of the application, providing up to 50% longer run time and increased power and speed over brushed motor tools.

4 - Makita created Star Protection Computer Controls™, a communication technology that allows the power tool and battery to monitor conditions and exchange data in real time to protect against overload, over-discharge, and overheating. Star Protection has been engineered to protect your cordless tools from the everyday demands they are put under.