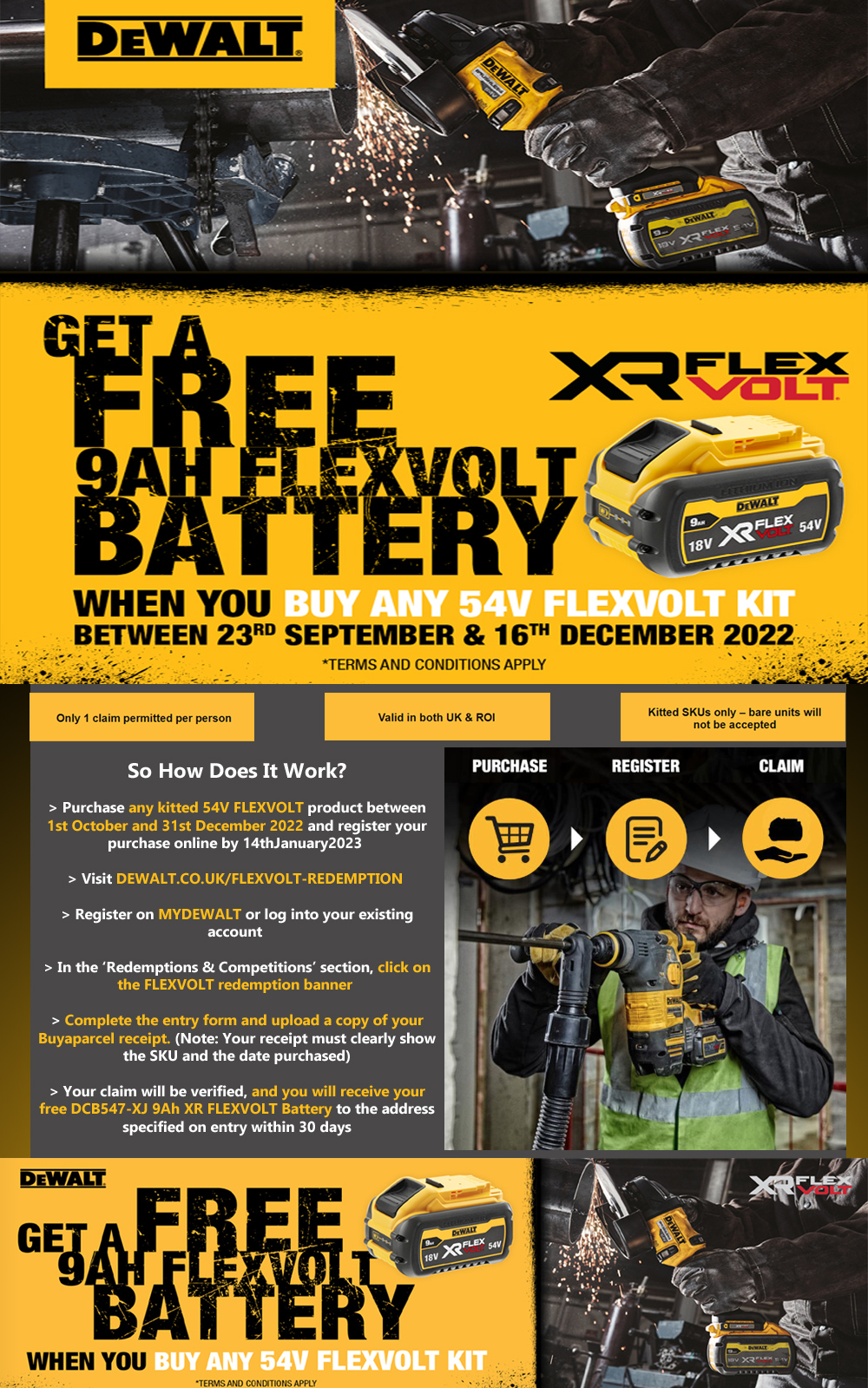 Thats the easy part right ? Now its down to you to add the next qualifying Dewalt Flexvolt tool to your collection to make sure you get your
FREE Dewalt DCB547-XJ 9.0AH 18V/54v Flexvolt XR Battery
Make sure you see the current "Kitted deals" we currently have running as part of this promotion - CURRENT DEALS
How to claim your FREE DCB547-XJ 9AH Flexvolt Battery
1- Buy one of the qualifying kitted landscaping products from the Dewalt campaign as per the *Terms and conditions apply.
2- Make sure you keep hold of your "buyaparcel" Invoice as you will need this to submit via your "MyDewalt" account!
3 - Select the 'Redemptions & Competitions' section and follow the cashback banner.
4 - Complete the form, upload your receipt, and accept the terms and conditions.
At Buyaparcel we will supply you with a full VAT Receipt with the goods - this can be emailed on request in PDF
When you buy any kitted 54v product, on or between 23/09/2022 to 16/12/2022.
Submit your claim by 14/01/2023. *Terms and conditions apply.
The ONLY Qualifying Products are:
DCC1054T2-GB, DCD240X2-GB, DCG200T2-GB, DCG418T2-GB, DCG418X2-GB,, DCH323T2-GB, DCH333X2-GB, DCH334X2-GB,
DCH417X2-GB, DCH481X2-GB, DCH614X2-GB, DCM5713X1-GB, DCM571X1-GB, DCM572X1-GB, DCM575X1-GB, DCMAS5713X1-GB, DCMBA572X1-GB, DCMCS574X1-
GB, DCMCS575X1-GB, DCS389T2-GB, DCS389X2-GB, DCS397T2-GB, DCS520T2-GB, DCS577T2-GB, DCS578T2-GB, DCS578X2-GB, DCS579T2-GB, DCS579X2-GB,
DCS690X2-GB, DCS691X2-GB, DCS727T2-GB, DCS7485T2-GB, DCS777T2-GB, DCS781X2-GB, DCV586MT2-GB, DHS780T2-GB ONLY.
Any other derivatives including bare units will not be accepted.