There are NO LIVE RUNNING Dewalt Redemptions currently 7th Decemeber 2023 - Bookmark this page to keep upto date with any LIVE Dewalt Redemptions
HAS NOW ENDED
-

Dewal

t

Flexvolt Redemption 2023 -
GET A FREE DCB547 9.0AH Flexvolt Battery
Dewalt Flexvolt redemption when you buy any 54v FLEXVOLT Kits (bare units will not be accepted)
Between 14th September and 7th December 2023 and register your purchase online.

Qualifying products are listed below. Visit DEWALT.EU/UK/FLEXVOLT-REDEMPTION for more details. Terms and conditions apply. Your claim will be verified, and you will receive your free DCB547-XJ 9Ah XR FLEXVOLT Battery to the address specified on entry within 45 days. Only one claim permitted per person.
Participants must submit their Claim to the Promoter, before 23:59:59 on21.12.2023 ("Claim Deadline"),

How to claim your FREE DCB547-XJ 9AH Flexvolt Battery
1- Buy one of the qualifying kitted Flevolt products from the Dewalt campaign as per the *Terms and conditions apply.
2- Log in to your MyDEWALT account using the sign in box below or create an account if you don't have one.

3- Select the 'Redemptions & Competitions' section and follow the banner.
4 - Complete the form, upload your receipt, and accept the terms and conditions.

At Buyaparcel we will supply you with a full VAT Receipt with the goods - this can be emailed on request in PDF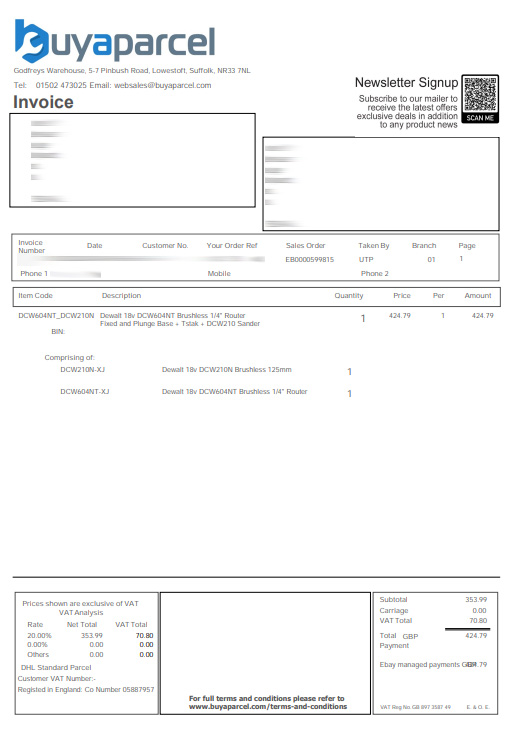 What Dewalt Flexvolt are Kitted Items can I claim a FREE 9ah Flexvolt DCB547-XJ battery with?

Terms and Conditions *
1. To be eligible to claim one of only 5500 units of the DEWALT DCB547-XJ 9AH XR FLEXVOLT Battery
("Redemption Product") available under this redemption promotion (the "Promotion"), Participants must
purchase as new (and not second hand) any DEWALT FLEXVOLT Kitted Product (excluding bare units)
(specific products only as detailed below) (each a "Qualifying Product") in one transaction on one receipt
("Qualifying Purchase") on or between 14.09.2023 and 07.12.2023 (the "Qualifying Period"), from a
Qualifying Retailer and, Participants must submit their Claim to the Promoter, before 23:59:59 on
21.12.2023 ("Claim Deadline"), in accordance with the Claim Process and these terms and conditions. All
capitalised terms are defined below.

2. The limited number of 5500 units of the Redemption Product will be allocated to the first 5500 Valid
Claims (define below).

3. Participants must be aged 18 or over and resident in the UK or the Republic of Ireland, except for
employees and immediate family members (defined as parents, siblings, children & spouse regardless of
where they live) of the Promoter, its affiliated companies, their agents and anyone else associated with the
Promoter in connection with the Promotion (the "Participants").

4. Qualifying Products must be purchased from a retailer in the UK or Republic of Ireland, except for the
Excluded Retailers (defined below) and, where the Qualifying Products have been supplied to such retailers
by the Promoter or Promoter's authorised distributors in the UK or Republic of Ireland (please check with
your retailer for further information to avoid disappointment) (a "Qualifying Retailer").

5. Purchases of Qualifying Products from private sellers on eBay (selling products as new or otherwise) and
third-party sellers on Amazon (ie not Amazon EU Sarl) whether fulfilled by Amazon or not (the "Excluded
Retailers") are not eligible for this Promotion.