Makita's long standing LXT 18v cordless range of power tools has proved how succesful an interchangable tool range can be. Adding to this success, Makita now introduce the new Makita Strap Belt System which has over 40 products in the range.
The items are split out into a handful or categories allowing you to create your perfect storage solution:
Belts & Braces
Pouches & Holders
Bags & Cases
Gear & Equipment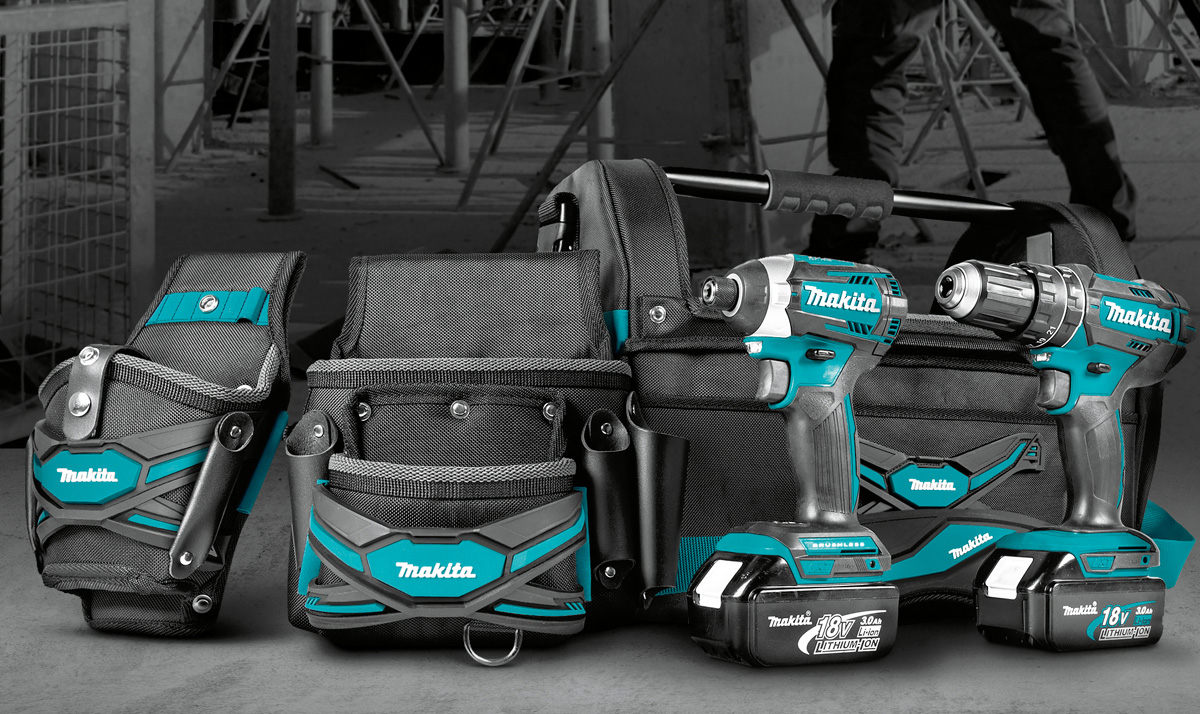 The Strap Belt System fits all Tool Pouches and Holders as well as Tool Bags and Cases. It's also perfect as a replacement shoulder strap and can be used with a variety of Makita bags. Take the hassle out of having to run and grab your tools from the tool box every time you need to use them - you can wear the Strap Belt System on your shoulder or hips. Convenient, functional, comfortable, and durable! This belt helps you to be efficient.
The Makita Strap Belt System has been designed to be tough, long lasting and innovative to allow for maximum efficiency in your work.

Heavy Load Support System - Provides additional support by distributing the weight between the waist and shoulders which helps to reduce hip and lower back pain. Extra thick 20mm cushioning helps to alleviate shoulder stress throughout the working day and the system's design keeps the straps from wandering off your shoulders. Easy to get on & off - just release the adjustable chest strap and metal hooks.
Tool Loops System - This innovative tool rail system allows you to store many tools without having to make adjustments. Made from high quality materials for longevity and durability, the system adjusts to a wide variety of tools thanks to a combination of loop sizes. A single or twin row formation lets you easily place large and small tools into the correct loops.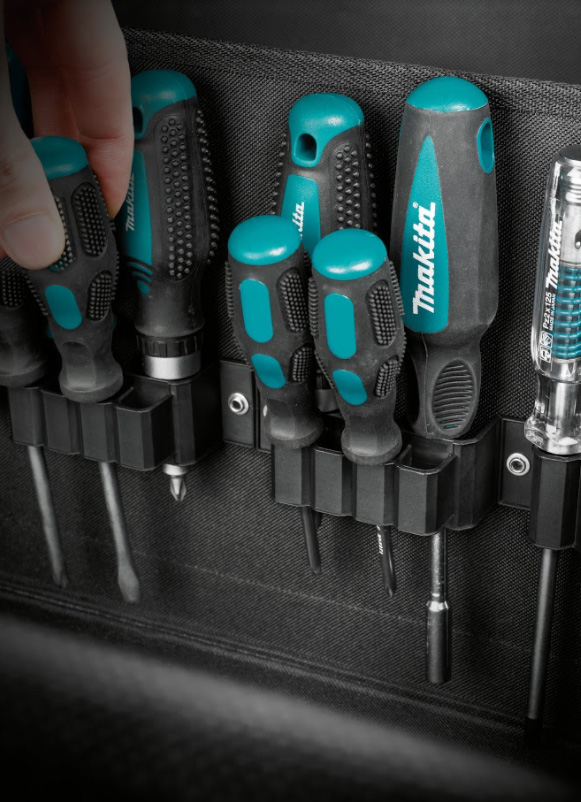 Backpack Carrying System - Keeps shoulder straps securely in place, whilst giving your hands freedom. It's designed to shift the pressure and reduce fatigue on your shoulders. One size fits all. The adjustable chest strap has been designed for a flexible and comfortable fit.
Waterproof Bottom - A high quality tool bag solution; the wear-resistant and waterproof bottom keeps tools dry and protected from damp and wet surfaces. The reinforced plastic base makes it as easy to keep your bag clean as it is to keep it tidy.
Revolutionary Anti Slip Technology - Anti-Slip Technology has been designed to hold many tools & accessories with its super sticky, anti-slip capacity. High quality polypropylene tape, combined with a rubbery top layer, helps to keep your tools in place & makes it suitable to use in all conditions. Anti-Slip Technology is used on all friction points and on pocket edges as the perfect protection from accidental falls.
3L Technology - A unique triple layer combination of polyesters and foam help to provide extra cushioning. Designed to be tough and weatherproof.
Real Leather - With excellent strength and added abrasion resistance, Real Leather has been specifically selected for use in products requiring thick leather for special tool slots. A heavy gauge leather with a thickness of 1.8 to 2.0mm ensures top quality. Used in hard-use areas to protect against damage by sharp tools: chisels, knives, screwdrivers etc
Durable Riveting - Gives a truly unbreakable strength. The rivets fasten together two or more pieces of material giving the ultimate strength for some of the toughest jobs. They also serve to reinforce the stitching and provide long lasting quality in all products exposed to heavy weight.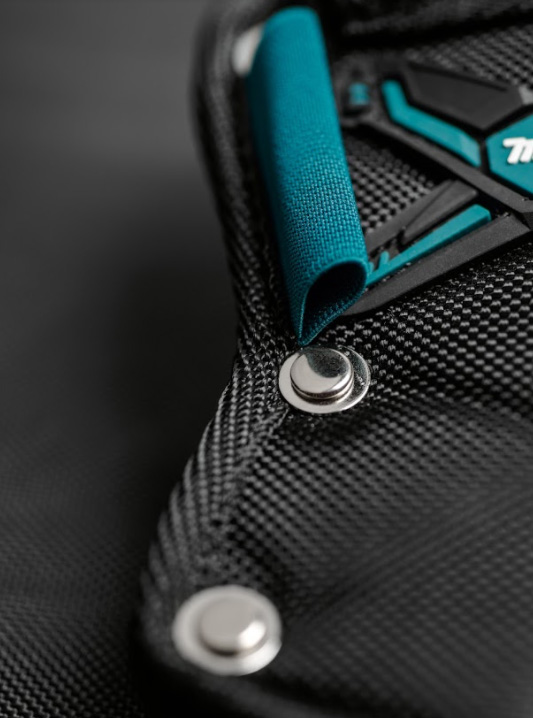 Loop Clip Solution - Thanks to this innovative system, pouches can be easily, but securely, attached to your belt. A unique locking system protects the pouch from falling off the belt if not correctly secured. They can also be used with normal clothing belts.
Elastic Loops - Secures the contents of your bag and keeps tools in place during transportation. Allows for greater flexibility and organisation having been positioned to make them as practical as possible, generously expanding to suit your needs. The loops have been designed to hold a large number of tools and accessories.

Side Gate Stainless Steel Hammer Holder - The side gate allows you to easily put the tool in without looking at the holder. Lightweight and comfortable, whilst being strong and durable the swinging feature keeps the tool at a comfortable angle.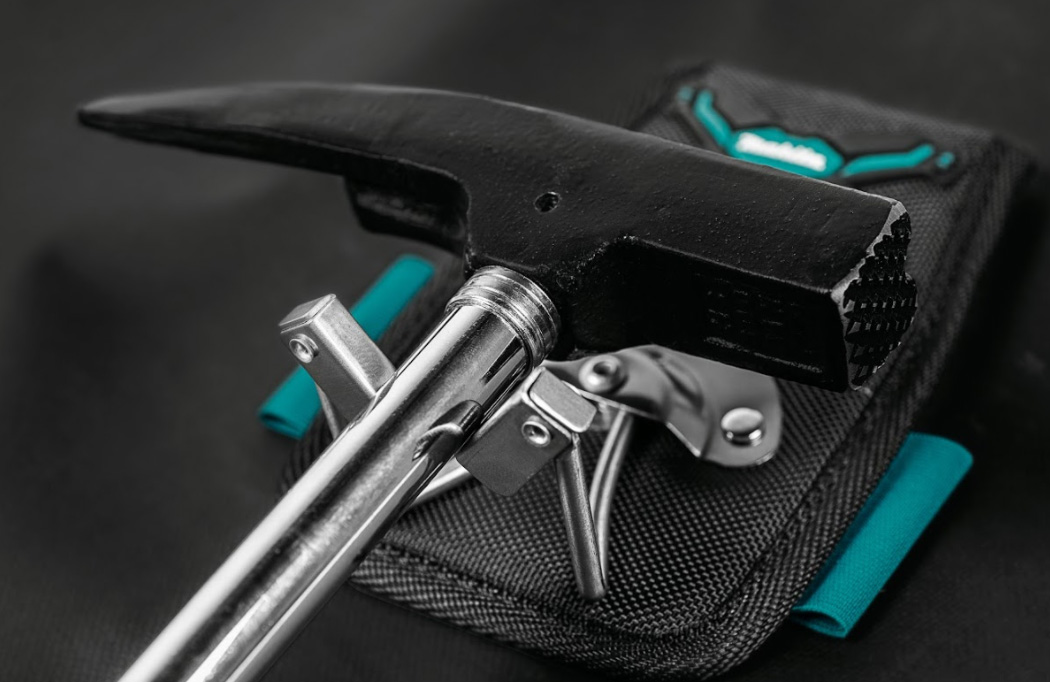 Belt Loop Holder - Belt Loop Holders are fully compatible with all Makita work belts, providing an effective solution of customising your belt to carry the things you need. The steel D-ring means you can hang anything with a carabiner and gives easy access to all quick-clip storage.
Rail Guide System - An extremely flexible organisational system inside your case. The perfect combination of plastic side rails and light separating walls allowing the customisation of individual compartments.
The Full Makita Strap Belt System Range:
E-05094 drill holster l/r handed
E-05103 pencil driver holster l/r hand
E-05119 impact driver holster l/r hand
E-05125 pouch & drill holster l/r hand
E-05131 ultimate 2 pocket fixing pouch
E-05147 ultimate 3 pocket fixing pouch
E-05153 roofer/general purpose pouch
E-05169 3 pouch tool belt set
E-05175 ultimate h-w tool belt set
E-05181 ultimate electricians pouch
E-05197 fixings pouch & hammer holder
E-05206 zip top pouch
E-05212 ultimate 4-way electricians holder
E-05228 ultimate 3-way hammer & tool holder
E-05234 side gate hammer & tool holder
E-05240 looped hammer & axe holder
E-05256 universal clip holder
E-05262 knife/secateur holder
E-05278 tape measure holder
E-05284 ultimate chisel & tool holder
E-05290 belt & shoulder strap
E-05309 belt loop - 3 pack
E-05315 belt loop - 6 pack
E-05321 ultimate padded belt & loop
E-05337 belt & belt loop
E-05343 ultimate leather belt & loop
E-05359 leather belt black m
E-05365 leather belt black l
E-05371 leather belt brown m
E-05387 leather belt brown l
E-05393 ultimate padded braces
E-05402 ultimate braces with clips
E-05418 ultimate adjustable tool case
E-05424 reinforced tool case
E-05430 ultimate open tool tote
E-05446 ultimate covered tool tote
E-05452 ultimate gate mouth tool bag
E-05468 ultimate wide mouth tool bag
E-05474 ultimate 3-way tool tote
E-05480 ultimate 4-sided tool tote
E-05496 semi-rigid tool bag
E-05505 technician tool & laptop bag
E-05511 backpack tool organiser
E-05527 bucket tote tool organiser
E-05533 tool organiser wrap
E-05549 ultimate chainsaw bag
E-05555 roll-top all weather backpack
E-05561 roll-top all weather tube bag
E-05577 roll-top all weather duffle bag
E-05583 ultimate smart phone holder
E-05599 thermal flask & holder
E-05608 thermal mug & holder
E-05614 lunch bag
E-05620 ultimate lunch bag & belt
E-05636 work vest - adjustable pockets
E-05642 knee pad set
E-05658 ultimate knee pad set
E-05664 guide rail holder 1.4m & 1.5m
E-05670 guide rail holder 1.0m