So first of all…what is a laser? It stands for "Light Amplification by Stimulated Emission of Radiation". A diode is used to create a concentrated laser beam of light in one wavelength. The shorted the wavelength the brighter and more visible the laser beam. Stanley lasers have a standard wavelength of 635 nanometres, which is suitable for use up to 30m.
Lasers are classed from 1 to 4 in terms of potential hazard, the Stanley range go from class 1 to 2m. This laser level falls into the Class 1 bracket of lasers meaning it poses no threat of biological harm.
The compact, lightweight Stanley Cubix Self-Levelling Crossline INT177340 Laser projects bright horizontal & vertical lines onto flat surfaces for common levelling and alignment applications. As well as the self-levelling mode, there is also the option of a manual mode and is accurate to 0.8mm/m.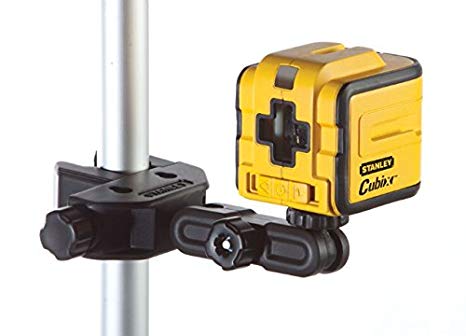 Comes complete with a QuickLink Bracket and universal mounting system. It has multi attachment points for flexibility – can be attached to architrave, window sills, shelves, poles etc.
The locking pendulum laser is used for setting angled lines and is effective indoors up to 8m.
This makes every day DIY and household task like wall papering the stairs, tiling the bathroom or hanging canvases a simple job that anyone can do accurately. Fixed mode is ideal for floor and ceiling use.