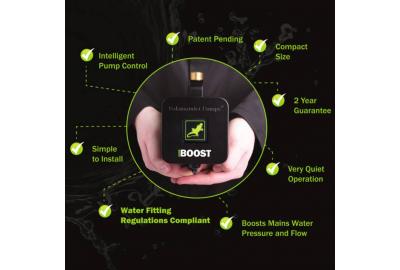 Salamander HomeBoost Installation Guide
One of the most common questions asked when looking at boosting your water pressure is "Can i use a shower pump with a combi boiler". The answer to that question has been no for a long time....but now Salamander Pumps have found a solution to this problem with the Homeboost Mains Booster Pump. So to ensure you have the full package, here are 6 easy steps to Salamander HomeBoost installation
1. Locate where you need to install the pump – it can be positioned after & within 2m of the stop tap or on the cold mains into the combi boiler. The natural flow rate needs to be between 1.5l/min and 12l/min, the pump brings the flow up to 12l/min.
2. Put PTFE tape on the ¾" BSP connections and fit 2 female irons to the copper connectors on the HomeBoost.
3. Cut away a section of pipe to enable you to install the pump.
4. A full bore isolating valve will need to be fitted after the pump. (Sometimes one is needed before the pump). A non-return valve and drain off will be needed after the stop tap.
5. Install the pump in the space. Tighten the connections and commission – simply run the water through the outlets before switching the pump on.
6. Turn the pump on – a clockwise rotating light will confirm its functioning correctly.
For more information watch our installation video.