Salamander's new range of CT Bathroom pumps are designed so that they can be used to supply a whole bathroom and not just specifically showers. This range has been specifically engineered to meet the increased demands for water supply to en-suites, bathrooms and utility rooms.
With their advanced design features, this new range of single and twin ended pumps will quietly and efficiently boost the hot or cold water supplies to showers, baths, basins, toilets and household appliances. With up to 2.6 bar of pressure, higher than the CT Xtra range, you will see your bath fill quicker and an increased shower performance. The added negative head option means there is a CT bathroom pump to suit all installations.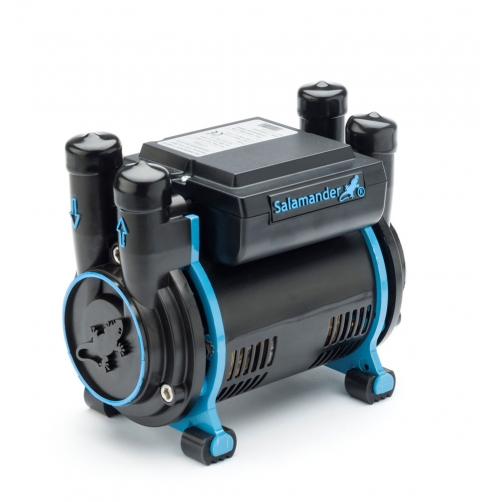 It is also set apart for the CT Xtra range due to the new 'crossover' feature. Salamander Crossover technology ensures that the pump does not suffer from closed head running.
With standard pumps, it has been known that only one outlet will be used well. For instance, when turning on a hot tap separately on a bath or a wash basin, only the hot side has the potential to be pumping water whilst the cold side impellor still spins on the other side of the shaft of the pump. Crossover ensures that both sides of the pump have water going through them irrespective of whether the user is running a hot or cold tap separately.
If it is a more premium pump you are looking for then the Salamander Ct Force brass pumps may be the ones for you. These also incorporate Crossover technology.
The Salamander Ct Bathroom pumps have been specifically designed to be the pump of choice for all bathroom applications with their reduced noise output and compact size.