A new range of Gorilla sledge hammers from Roughneck have now arrived. They challenge the normal stereotypes that a sledge hammer should be a large rectangular piece of metal at the end of a long handle.
They are precision forged from high carbon steel with a dome shaped striking point for exerting concentrated force. This allows higher striking forces to be achieved compared to a conventional flat face.
They also have a larger than normal striking face with a chamfered edge. The hammers have a side striking faces and are designed for striking wooden posts.
The extra strong fiberglass handle with shock absorbing TPE grip is designed for maximum comfort with an end of handle hole for use with a lanyard. Both the dome shaped striking point and the striking face are induction treated for hardness.
The two mini hammers in the range are perfect for working in confined spaces such as corridors and on scaffolding.
This exclusive new concept of sledge hammers with uniquely shaped heads is designed to increase efficiency and is certainly setting itself apart from other competitors.
Another new Roughneck addition is their hollow handled axes. These are made from forged steel which has been hardened and tempered. The handles themselves are made from fibre reinforced shatter proof nylon and are virtually indestructible.

These axes provide an ideal balance for a comfortable and effective swing. The hollow handle makes the item lightweight and therefore causes less fatigue. If all of the above doesn't do it for you, these tough tools are fitted with a handy nail puller.
Finally, we would like to introduce you to the new Roughneck Ultimate mortar gun. As the name suggests, it is the best in terms of quality, specifications and number of applications. It can be used as a mortar, grouting, sausage, pointing or caulking gun. It also has a bulk load feature.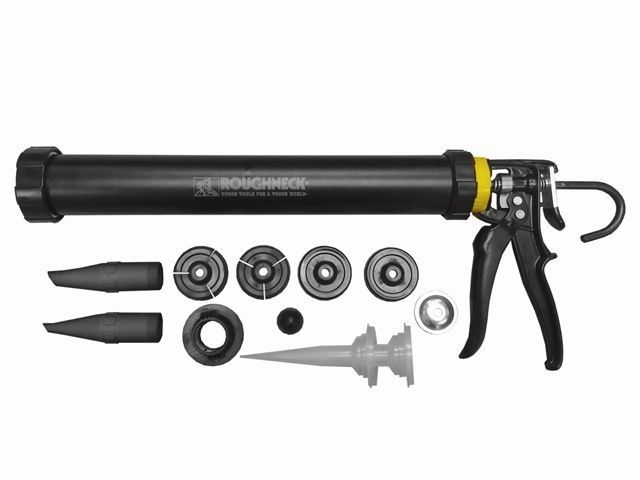 It has a heavy duty ratchet mechanism with a high thrust ratio, high density push block with hardened release plate and push rod. Made from strong aluminium, this tool will prove to be a fundamental addition to your kit.