Your next day delivery options have now been extended!
Being based on the most easterly point of the UK may provide great sunrises but it means the available delivery options we have can be limited. So we have been working hard to improve these for you.
If you have ordered with us before, you will know our next day delivery cut off is 2pm on a working day. This would offer the below delivery times if a next day delivery was chosen.
Friday Pre 2pm - Delivery Monday
Friday Post 2pm - Delivery Tuesday
Saturday - Delivery Tuesday
Sunday - Delivery Tuesday
Meaning, should you have your feet up on a Friday night browsing our site for a little treat after a busy week, the earliest delivery date would be Tuesday!

We have now extended the cut off time to 10am on a Saturday which gives you 20 extra hours of shopping time to get your item for Monday!
Friday - Delivery Monday
Saturday Pre 10am - Delivery Monday
Saturday Post 10am - Delivery Tuesday
Sunday - Delivery Tuesday
Just be sure to tick the Next Day Delivery option at the checkout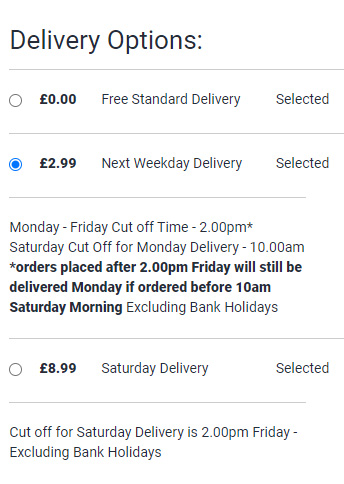 Our Saturday delivery option is still available for orders placed before 2pm on a Friday.
Here at Buyaparcel we will continue to strive to be able to offer a Next Day Delivery service 7 days a week. Rest assured we will shout about it as soon as its possible...stay tuned!