The MX Group have launched Durastone, a range of low profile shower trays made from a 2.2mm acrylic-capped shell and filled with a mineral stone mix. The New Mx Durastone Shower tray weighs 60% lighter than a conventional stone resin tray. The trays are available in flat top and upstand versions and incorporate a 90mm high flow waste.
The privately owned company has established a very successful business largely based on producing products for different brands and manufacturers. The MX Group specialises in the design and manufacture of shower trays and shower accessories. MX Group's 90,000 sq ft factory in Tewkesbury, Gloucestershire produces more than 8 million products or components each year. MX produces over 300,000 shower trays each year making them the number one shower tray manufacturer in the UK.
The MX Group was founded 'n 1972 by its current chairman Bernard Robinson. Over the last 40 years the business has evolved from a specialist supplier of shower hoses to a one stop shop for all shower related products, including shower trays, shower enclosures and the shower itself.
At a time when other manufacturers have been happy just to stay afloat, recent years have seen the Group look to expand its business through acquisition as well as through organic growth. In 2011 it announced the acquisition of Aquatora, best known for the Storm Shower tray range. This move was followed in recent months by the puchase of the UK Division of Irish company Flair lntemational.
Shower trays remain the cornerstone of the business. The Tewkesbury production facility houses the latest machinery and materials and produces 6000 shower trays every week. The challenge in recent years has been to produce a lighter weight shower tray without compromising on strength and durabiity.
MX Group designed the DuraStone shower tray. It incorporates all the benefits of the latest materials and technologies, is 60% lighter than a traditional stone resin tray (Elements). "DuraStone" complies with the HSE regulations for a one man lift and they are made using WRAS approved Phthalate free materials. The DuraStone shower tray is avaiable in avariety of shapes and sizes. They are suitable for most screens and enclosures and incorporate a high flow 90mm waste which alows water to flow at 32 itres per minute.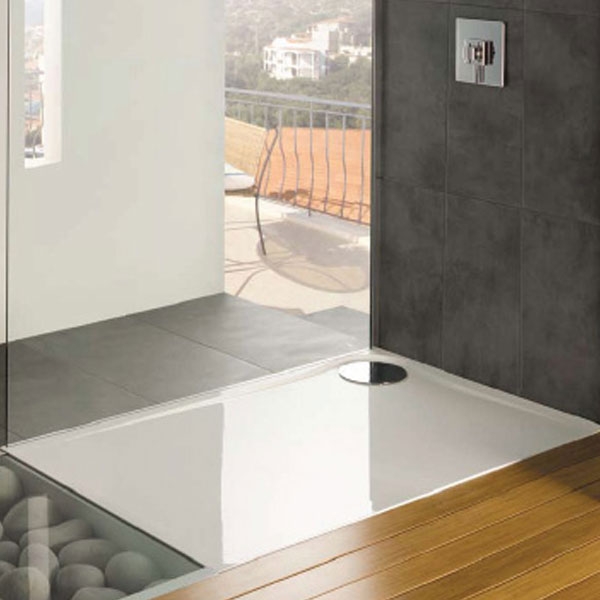 MX Group has also responded to the consuner demand for low profile designs that deliver the look of a wetroom the cost of a fill wetroom installation. "Optimum" is an ultra low-profile range of wetroom shower trays. At just 25mm high, the trays are slimmest shower tray on the market. Available in a wide range of shapes and the tray also features a special top access waste to enable and easy installation, service and maintenance.