How much can i save when i install a Water Softener?
Did you know that installation a Monarch Midi Water Softener could save you up to £550 on hard water costs per year!
Up to 24% saved on energy bills by removing scale from systems in hard water areas
Unlike other many other household appliances, a water softener actually saves you money when you use it. Not only that It also helps you spend less money repairing and maintaining your other appliances.

The minerals in hard water cause a crusty buildup called scale that appears in copper pipes and around taps. When scale builds up inside of pipes, it can restrict water flow into appliances and also impede water heating, so you end up using more energy to heat your water.

This can be the source of many costly repairs since your appliances wear out more quickly.

Additionally, scale can lead to staining on showers and sinks, requiring you to buy additional cleaning products to remove it. By installing a Monarch Water Softener you are stopping scale at the source and therefore use of hard water so you won't need to repair or replace your appliances as often.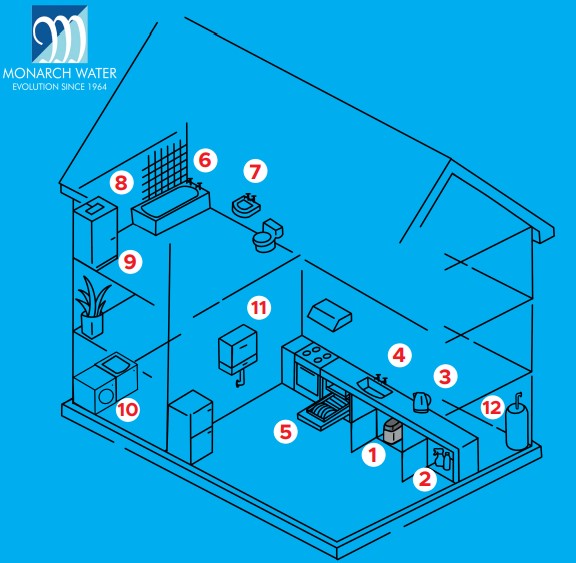 Where in the home will a Monarch Water Softener save you money?
1 - Easily fitting in your kitchen cupboard, a Monarch softener removes existing scale and keeps appliances protected
2 - Save up to £550 a year on hard water costs of chemicals etc
3 - In just a few weeks, the scale will be gone from your kettle.
4 - Keep your bathroom taps and kitchen taps and kitchen sinks looking showroom new.
5 - Dishwasher protection and cleaner looking dishes
6 - Hospital studies point to soft water alleviating skin conditions such as eczema.
7 - Better shaving experience.
8 - keeps your tiles, grout and shower screens free of limescale.
9 - Increased life expectancy by using soft water for your boiler, hot water tank and all water using appliances including boiling hot water taps
10 - Laundry will feel softer, fresher and cleaner.
11 - Scale free boiler, with reduced energy bills as no scale to heat first
12 - Scale free hot water cylinder, with reduced energy bills as no scale to heat first