Makita offer the worlds largest cordless tool system powered by 18v lithium ion batteries so they need to ensure the essentials of this system - the batteries and charger - meet your demands.
Downtime on the job is always a frustration, although it may give you time to make a quick brew, you certainly dont want to be waiting an age for your batteries to re charge.
The Makita Rapid Optimum Chargers, including the Makita 18v DC18RC Charger and the Makita DC18RD Dual Charger, give you up to 3 x faster charging. These are included in many LXT cordless kits.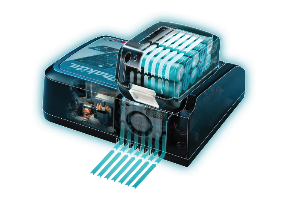 Active Cooling
A built-in fan circulates air through the battery during the charging process to cool the battery for faster charge time. Unlike competitor fast chargers, the active cooling in Rapid Optimum Chargers allows for immediate charging once the battery is installed onto the charger base.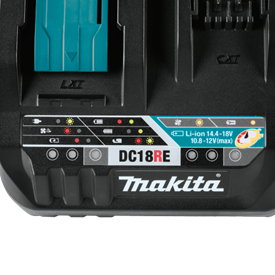 Charge Optimization
Rapid Optimum Chargers optimize battery life by actively controlling current, voltage and temperature during the charging cycle. This communication allows the charger to provide indications of the battery's status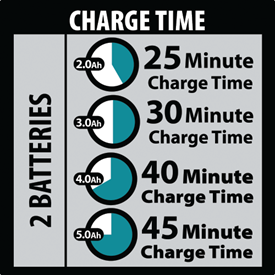 *18V LXT® batteries being charged with a DC18RD charger

Less Time Charging = More Time Working
Rapid Optimum Chargers offer category-leading battery charge times. This means Makita batteries spend more time working and less time sitting on the charger for increased efficiency.
So, with the Makita DC18RD Dual Port Charger, you can charge your BL1820 18v 2.0Ah batteries in as little as 25 minutes!
Makita BL1830 18v 3.0Ah batteries will take 30 minutes.
Makita BL1840 18v 4.0Ah batteries will take 40 minutes.
Makita BL1850 18v 5.0Ah batteries will take 45 minutes.