Innovation is the hallmark of Irwin Tools. Beginning in 1885 with development of the first Irwin auger bit, and progressing with the introduction of Vise-Grip locking tools, Blue Groove flat bits, and Quick-Grip bar clamps, Irwin has been at the forefront of the industry, creating better tools in a better way. For more than 100 years, this underlying standard has made Irwin a household name for strong, professional tools.
Irwin has an impressive track record of new product development which is born from the passion of understanding the needs of the professional tradesman. This dedication to improving products begins in the field, where Irwin's specialised end-user teams visit construction sites. There, they learn first-hand – from the professional – what will make the pro's job easier, more productive and therefore how to improve the product.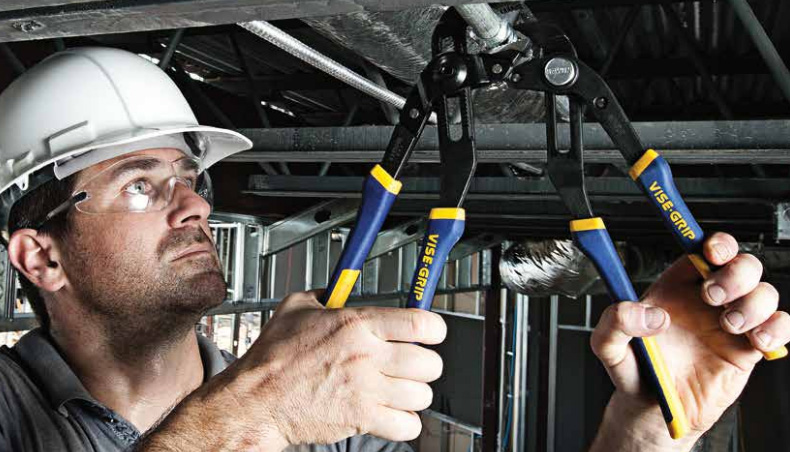 Irwin has been delivering high-quality and innovative products for over a century. The Vise-Grip Locking Tool was one of the first which was invented in 1924 by a blacksmith in Nebraska. William Petersen was a Danish immigrant who invented the first locking pliers in his blacksmith shop, and began selling them from the back of his car to farmers and people in surrounding towns. Since then, Vise-grip has become the instant go to when you need a pair of locking pliers.
With the strong reputation for innovation and quality, Vise-grip gives proven performance in every turn. From humble beginnings of the one tool invented in Nebraska, the Vise Grip family has grown to offer a full range of locking pliers, water pump pliers, cutting and VDE Pliers.

Irwin Vise-Grip Original locking tools, with a classic guarded trigger release, are designed to provide maximum locking force.
Irwin Vise-Grip Fast Release locking pliers have a one-handed, triggerless release, so they're twice as easy to open as the traditional design. No pinch points.
When it comes to hand tools and power tool accessories, Irwin is the brand you will see at the forefront. They cover everything you would need from Irwin Jack Handsaws, Record clamping and locking tools, Joran drill bits, Quick-Grip clamping tools and Marples chisels and woodworking tools. With Irwin, you can be sure your tool will be dependable and high quality.