The Imex LX22G and the Dewalt DW088CG laser level - which one is best for you?
Both cross line laser levels are jam packed with features for accurate measuring. Here we will outline some key differences.
The first stand out aspect of the Imex LX22G cross line laser level is the pendulum lock which is important for the life of the product. It locks the pendulum mechanism in place whilst in transit so no damage occurs. The Dewalt DW088CG does not include the pendulum lock and you can hear this rattle if you give the unit a little shake.
The pendulum can also be used when the Imex LX22G is turned on, allowing you to set out perfect angles. The feature is great for tilers when looking to achieve a herringbone pattern.
Another useful detail of the Imex cross line laser are the plumb spots which project out the top and bottom. This is particularly useful for electricians when it comes to setting out ceiling lighting.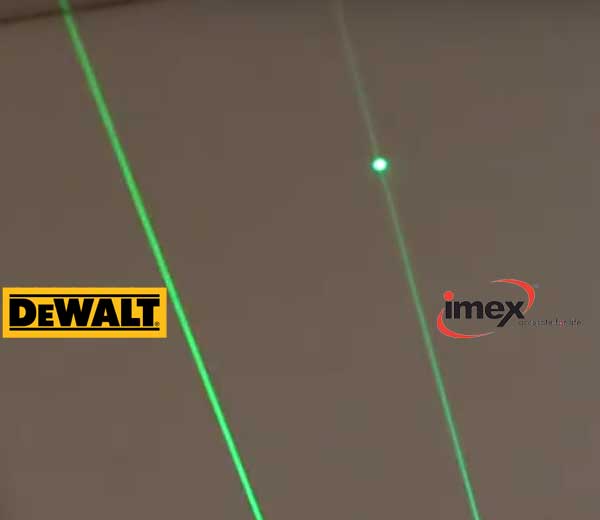 The Dewalt DW088CG laser level is a compact unit which has a fixed magnetic bracket on the reverse.
From this first image, you can see the Imex beam is much sharper and brighter which gives alot more clarity when up close. The beam is also thinner which is perfect for very accurate work.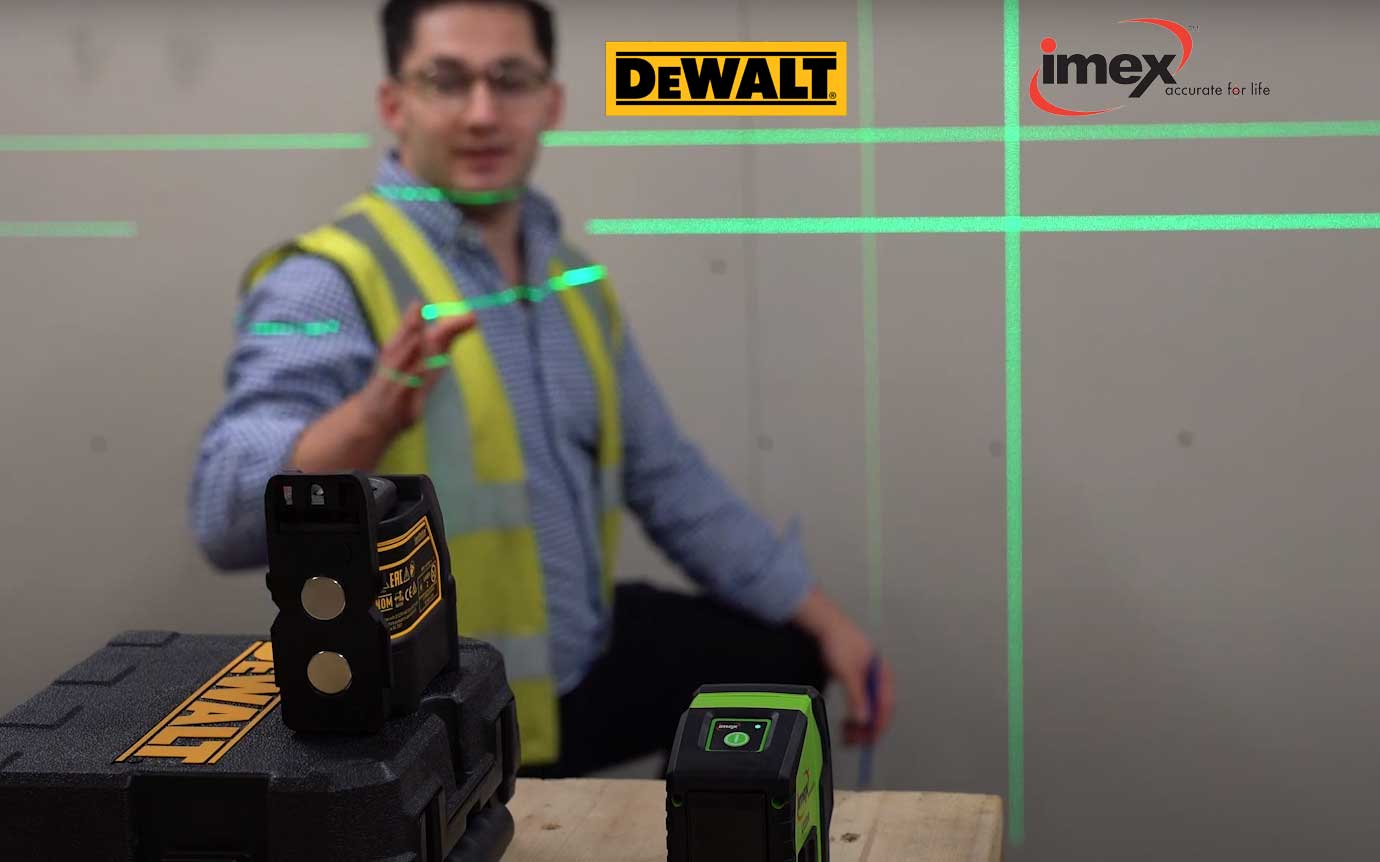 Here in this second image, the laser levels are being put under the 20m test. Whilst the horizontal lines are very similar, there is a clear difference in the brightness on the vertical lines with the Imex on the right hand side literally outshining the Dewalt.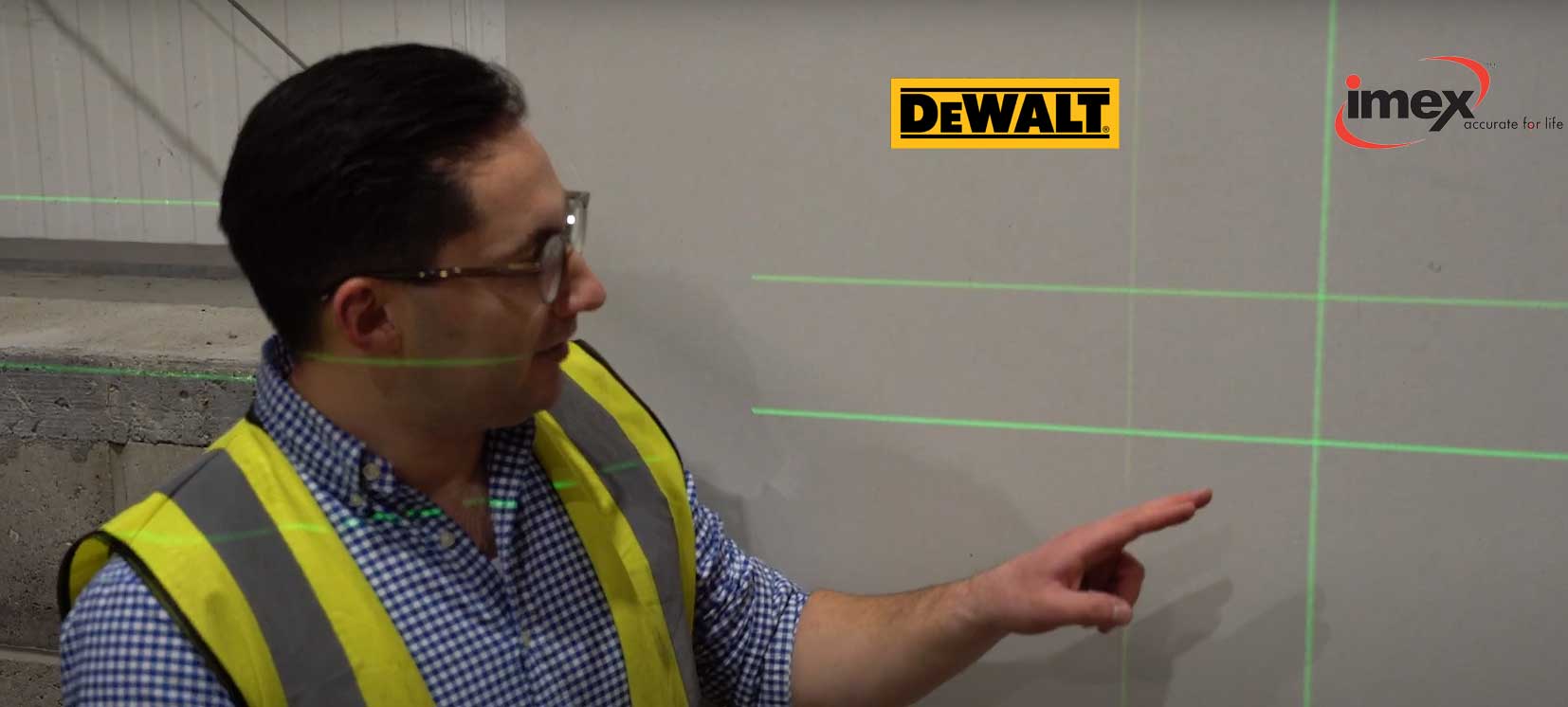 Watch the lasers in action
Key comparison specifications:
| | | |
| --- | --- | --- |
| Model | DW088CG | LX22G |
| Laser Class | 2 | 2 |
| Type | Green Beam Self Levelling Cross Line Laser | Green Beam Self Levelling Cross Line Laser |
| Accuracy | #+/- 3mm / 10m | #+/- 3mm / 15m |
| Direction of Beams | V / H / Cross | V / H / Cross - Plumb spot up and down |
| Plumb Spots | No | Yes |
| Working Distance | 20m | 30m |
| With Detector | 50m | 55m |
| Bracket Included | Yes | Yes |
| Tripod Connection | Yes | Yes |
| Power Supply | 3 x AA Batteries | 4 x AA Batteries |
| Locking Pendulum | No | Yes |