A sprayer can be used to apply an even distribution of useful garden solution, to take care of your plants, control weeds or for cleaning tasks. This is much more accurate than a ready-to-go trigger sprayer and prevents repetitive strain of having to continuously pull the trigger. Not only that - A Hozelock pressure sprayer will save you money and reduce plastic waste!
A garden sprayer can be used for the following tasks:
Liquid Fertiliser: A nitrogen-based solution used to encourage plant growth
Insecticide: A product that is able to kill insects
Fungicide: A product that is able to kill or limit the development of fungi
Herbicide: A product that is able to kill unwanted plants e.g. weedkiller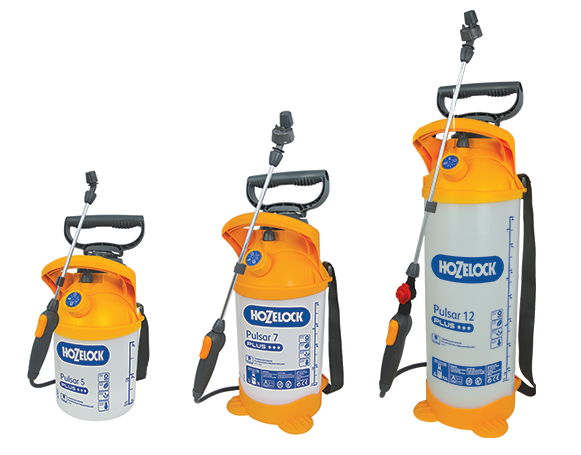 How to use a sprayer:
• Spray between 12-25°C on a dry day and treat early in the morning or late in the afternoon.
• Spray between 60% and 95% humidity. Humidity can be measured using a hygrometer or search online for your local area.
• Avoid treating in windy conditions and treat close to the target, pointing downwards.
• Only spray the surfaces required and not on open blooms to protect the environment.
• Use protective clothing and keep other people and pets away from the area when handling the sprayer.
• Follow the manufacturer's instructions for all treatment agents
Concentrate preparation
Choose a suitable concentrate for the application required and only prepare enough for one dosage. Concentrates come in liquid or solid form, to be easured out and diluted as per the instructions. For a solid concentrate, powder or crystal form, prepare in a bucket before decanting into the sprayer.
Application
1 - Put 1l of water into the sprayer.
2 - Measure and add the required volume of liquid concentrate into the dosing cap.
3 - Screw on the lid and dosing cap tightly before shaking the sprayer to mix the solution.
4 - Pressurise the sprayer by releasing the central pump-action mechanism in the handle and pump it up and down until the pressure valve hisses.
5 - Adjust the jet by turning nozzle
After use
Lift the safety valve before unscrewing the pump or filler cap to release any remaining pressure. Clean scrupulously by filling and swirling the sprayer with 1l of water to rinse the equipment thoroughly and spray over the same area that is suitable to treat – repeat 3 times. Do not pour excess solution or washings down the drain.
Hozelock standard pressure sprayers are available in 3 sizes - 5L, 7L, 10L - so no matter the area you have to cover, there is a sprayer for you.
The Hozelock Pulsar Plus range of sprayers are also available in the three sizes and include a two handed pumping handle and a dosing cap.
Hozelock also offer a range of specialist sprayers

The Hozelock Electric sprayer gives a constant spray at the touch of a button, no pumping required! It is perfect for spraying large areas such as gardens, orchards or vineyards and ideal for those who are not able to manually pump a sprayer comfortably.
The Hozelock Portashower is a compact, portable shower – only 460mm high - and easy to store. Ideal for camping and caravanning, showering pets, watering plants or washing the car.

The Hozelock Disinfection pressure sprayer is a high quality, disinfection sprayer, effective for the safe use of liquid bleach diluted at 2% – 5%. Ideal for disinfecting surfaces, household cleaning and disinfection of the workplace. A great solution for making areas safer in the battle against COVID-19.

If all this wasnt enough, Hozelock have a range of sprayer accessories enabling your sprayer to be even more flexible for your tasks. An extension lance will allow you to access those hard to reach areas and a multi nozzle will allow the most accurate application.