A new addition has landed this Autumn at Buyaparcel – Fiskars bring the perfect tools to make chopping your firewood, or carving a majestic sculpture, that bit easier to do.
Now that the cold weather and dark nights are slowly rolling in, chimneys are a'smokin across the UK – but we need to source that firewood from somewhere, and whilst it might be the expensive answer to buy your wood at your local supermarket, have you ever considered the more rustic, home-grown idea of sourcing it yourself? Maybe resourcing the right equipment to do so has always been a problem? Not anymore.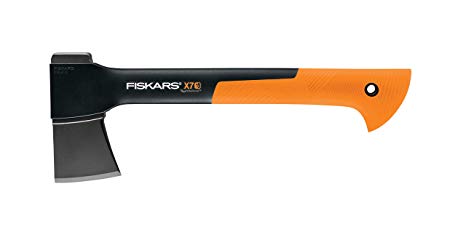 Since 1649, Fiskars have been manufacturing top of the range consumer products, and their new selection of quality axes are no exception. Designed at a perfect cutting angle and coated with a corrosion protective, the performance never fails, and thanks to the double hardened blade on each axe, you'll have maximum durability. The virtually unbreakable, lightweight shaft has an anti-shock safe grip as well, ensuring safety in use. For use in various applications – from chopping to splitting to tree felling – if you're in the leisure of chopping wood this season, or at any time of the year, you need a Fiskars axe to make the job complete. Here at Buyaparcel, you'll find anything from their smaller camping axes all the way through to the largest splitting axe, the Fiskars X27. And if you're confused on which axe is more suited to your requirements, we even have a handy guide below supplied by Fiskars that should make things a bit clearer…
Fiskars Chopping Axe Vs Splitting Axe
Fiskars Chopping axe – The Universal Chopping Axe's thin, wide edge ensures a clean, easy cut in fresh, resinous wood, like spruce or pine.
Fiskars Splitting axe – The Splitting Axe features a unique cutting edge that easily slices into the wood, which the thick axe blade then pushes apart. And don't forget your must-have Fiskars sharpening tool to keep your axe sharper for longer.