HSE Compliant First Aid Boxes
The contents of your first aid kit should be based on your first aid needs assessment. As a guide, where work activities are low risk such as office based a minimum first aid kit might contain:

1) A leaflet with general guidance on first aid (for example, HSE's leaflet Basic advice on first aid at work.
2) Individually wrapped sterile plasters of assorted sizes, preferably hypoallergenic.
3) Sterile eye pads.
4) Individually wrapped triangular bandages, preferably sterile.
5) Safety pins.
6) Large and medium-sized sterile, individually wrapped, unmedicated wound dressings.
7) Latex and powder free vinyl disposable gloves.
8) Alcohol free sterile wipes.
9) Biohazard bags to safely dispose of soiled dressing etc.

This is a suggested contents list. By law, your kit does not have to meet this standard, but you should check it contains what you've identified in your needs assessment.
HSE complete compliant kits that include all items mentioned above are available to purchase. They are often categorised based on the amount of people it needs to cover such as 1-10, 11-20 and 21 to 50.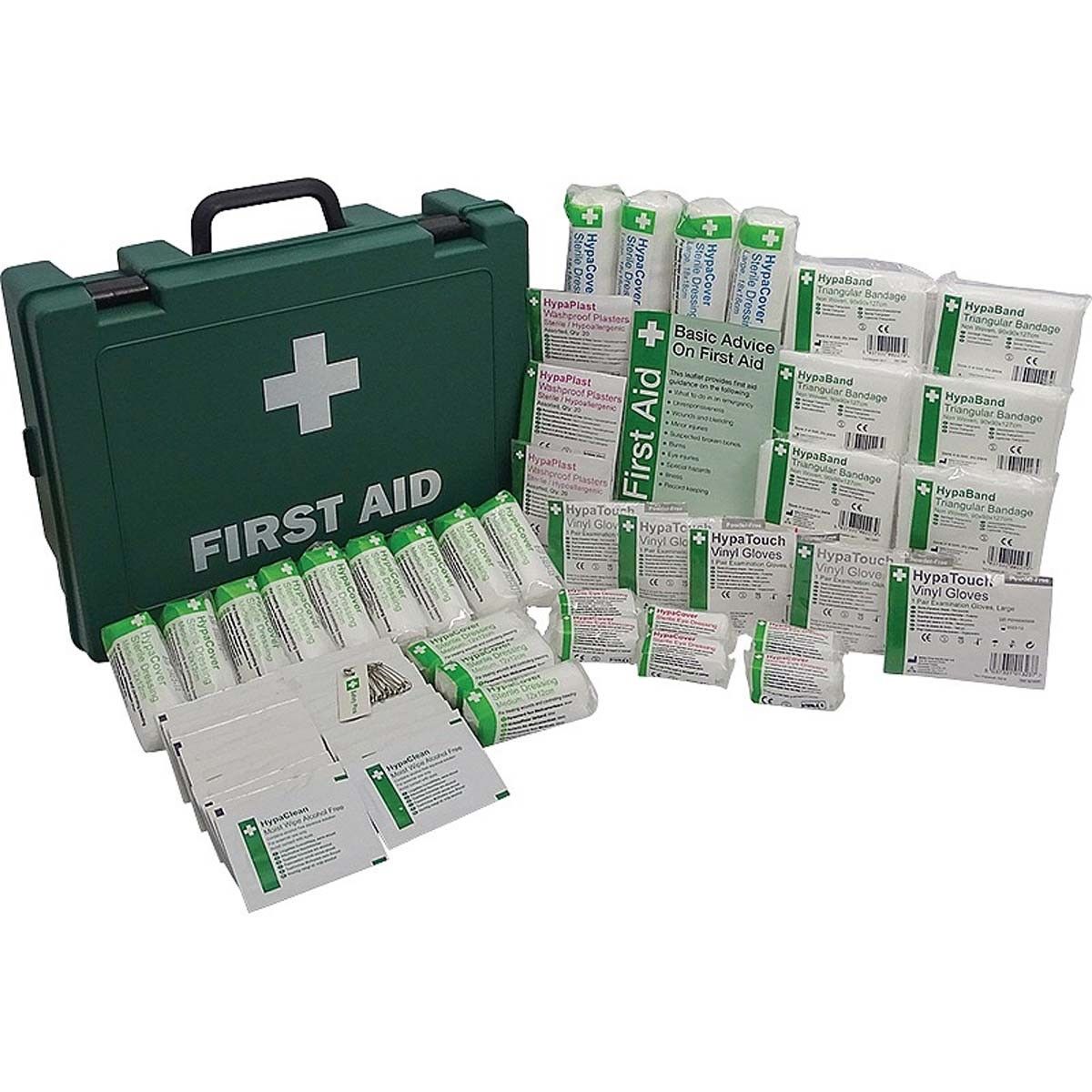 Site Specific Requirements

If you do not have access to running water, a supply of sterile eye wash or even an eye wash station is recommended.

If burns are a risk or you have limited access to running water a specific burns station would be advised.

Maintaining or Replacing Contents of a First Aid Kit

Check your kit regularly. Many items, particularly sterile ones, are marked with expiry dates.

Replace expired items, disposing of them safely. This will often include dressings, conforming bandages, plasters, gauze, and foil blankets.

If a sterile item does not have an expiry date, check with the manufacturer to find out how long it can be kept. For non-sterile items without dates, you should check that they are still fit for purpose.