At Buyaparcel we always like to bring to your attention new power tools that are coming onto the market, but sometimes it worth us reminding you how great some of the longer standing products are.
The Makita AF505 18g brad air pin nailer is one of those. Its price point is great, coming in much cheaper than some of its counterparts. Taking into account Makita's renowned quality, you wouldn't expect the price to be so low on a professional grade nailer.
It is capable of excepting nails from 5/8" to 2" and can drive them into hard or soft wood. The dual nail reload indicator windows alert the user when to reload nails to avoid blank drives.
Should you encounter a jam, the quick release cam-lock opens the Makita Af505 nail guide assembly to be able to clear it. This makes you much more efficient as less time is spent trying to clear difficult nail jams by prizing open the nosepiece with other tools. The magazine allows you to load 100 nails. If you could load more it would increase you work efficiency but may make the tool more bulky.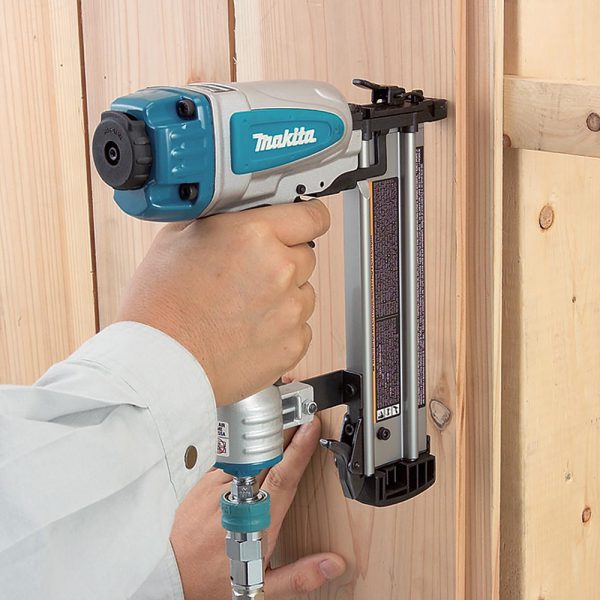 The tool is easy to use with its "tool-less" depth adjustment thumbwheel dial for a wide variety of finish applications. You can even change nail lengths and the depth will stay set consistently.
Sky hook can be rotated 180° and attached on either left or right side so tool can remain close by, but never in the way. Non-marring rubber nose and bumpers protect the wood's surface from being scratched or damaged before the work is complete.
Rubber covered hand grip for non-slip, comfortable contact enables you to use this tool for longer without fatigue.
It comes complete with a case and safety goggles.
Its an oldie but a goodie!