Dewalt have announced their TSTAK new interlocking stackable storage system. They are compact and have a fantastic strong but sleek design which contrasts to their Toughsystem tool boxes.
This new systems allows you to build the best system to suit your needs. No more rooting around to find that screwdriver you tossed in your toll box at the end of a long working day. With the new Dewalt Tstak, there is a home for tools and accessories of every size.
Combine the boxes together with the durable side latches for easy carrying, mix and match the units as you feel appropriate. There are six different styles so the number of combinations available should keep you busy for some time.
TSTAK I / TSTAK 1 – DWST1-70704 – includes organiser in lid with fixed compartments and room in the main section for power/hand tools. This has a longer handle top than the rest of the range meaning other units cannot be attached to the top. With that thought in mind, this would be the ideal topper to our stack.
TSTAK II / TSTAK 2 – DWST1-70703 – includes pre-cut foam ensuring good protection for your power tool. This strikes as a standard case that Dewalt will include in a kit as standard with its power tools.
TSTAK III / TSTAK 3 – DWST1-10705 – ball bearing slides make it reliable for heavy duty jobs. Includes removable lidded cups for storage of smaller accessories: 2 large, 2 small.
TSTAK IV / TSTAK 4– DWST1-70706 – with two drawers this unit is ideal for smaller tools and accessories. Removable dividers make organisation quick and easy.
TSTAK V / TSTAK 5 – DWST1-71194 – clear lid organiser with 2 large and 5 small removable storage cups. Your small parts and accessories will be held securely in place in the compartments with the unique heavy duty, impact resistant lid.
TSTAK VI / TSTAK 6– DWST1-71195 – at 23 litres, it is the largest of the range and suitable for storing your larger tools. Comes complete with removable tray allowing quick access to your items.
All units have a bi material handle to ensure easy and comfortable lifting.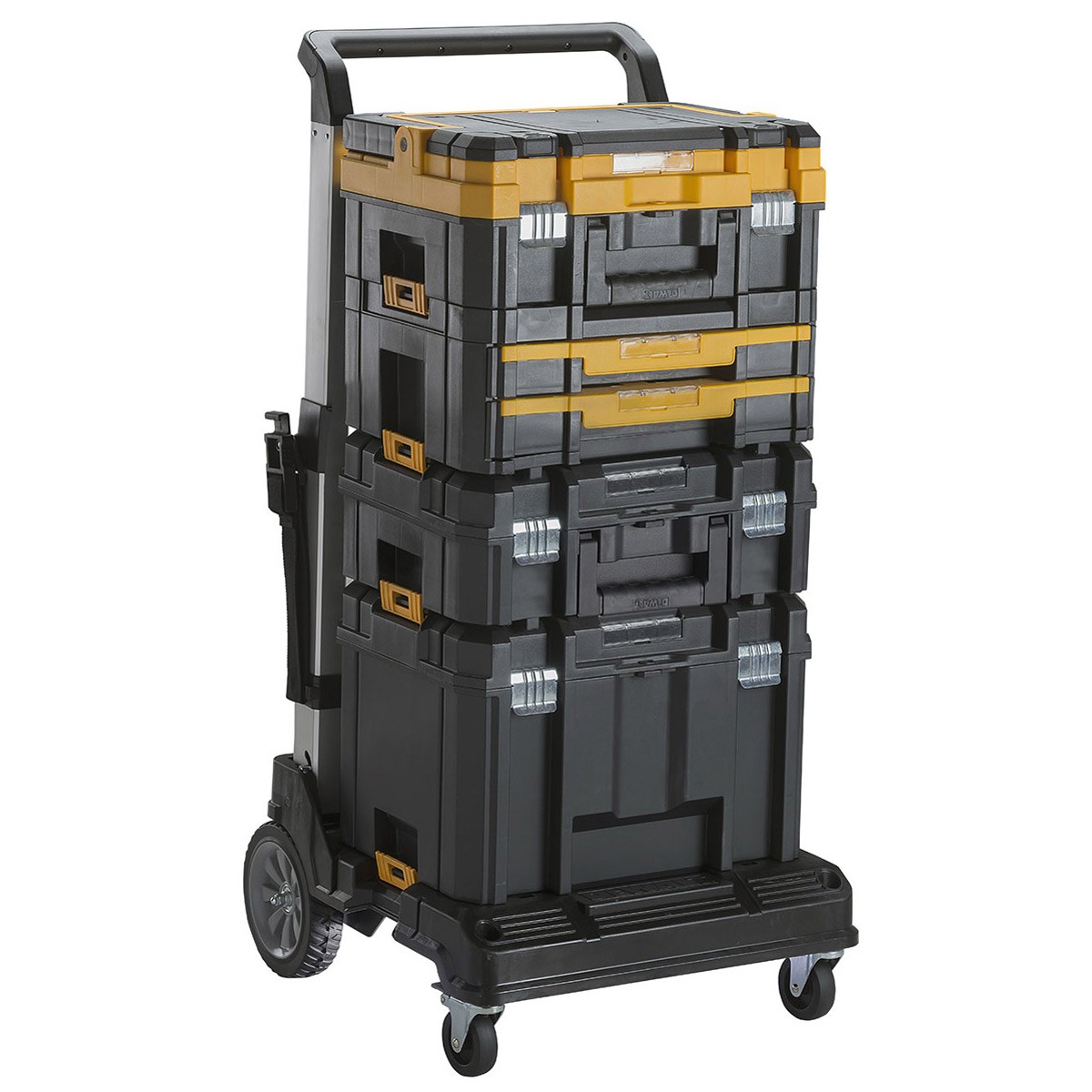 You may think you already have the most suitable system for your needs; maybe it will be hard to persuade you away from the Dewalt toughsystem. Maybe just one TSTAK case will be enough to tempt you. As well as being part of an innovative stacking range, each case is effective in its own right.
This range offers a great deal of flexibility with organisation. With the addition of some Dewalt TSTAK wheels you can transport you tools around easily in a tough and compact storage system.