Dewalt have redesigned versatility with the DCS355 brushless oscillating multi tool and the DWE315 corded multi cutter.
The Dewalt DCS355M2 18v XR multi tool is the first cordless multi tool from Dewalt. It is compatible with the DCB183 2.0Ah and DCB182 4.0Ah Dewalt batteries. When a battery is attached it makes the tool well balanced when placed on its end.
The Dewalt Air-lock quick fit dust extraction kit can be used in conjunction with the DCS355 and will reduce clear up time.
Dewalt's other new addition, the DWE315KT corded multi tool, shares many features in common with the cordless version. They have a bright LED light on the front to make working in dull light easier and the final cut more accurate.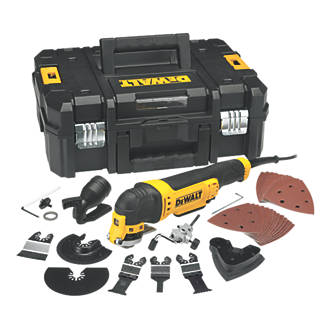 The responsive trigger on the multi tools allows for variable speed control and duel grip position. This combined with the rubber over moulded ergonomic handle means the tool has better application control for longer periods of time.
Being a multi tool, it is essential to be able to change the tool over efficiently. These units have a tool free, single handed tool change system. They are designed to be used in a variety of positions, again an essential requirement for an oscillating multi cutter.
Dewalt do state that their multi system is designed to fit all leading competitive units and an adaptor may be required on less common units, so bare this in mind.
The cordless multi tool uses Dewalt's brushless motor which lasts up to 56% longer than standard brushed motors. No brushes mean less friction, less heat therefore less strain on the battery and more reliability and output. The oscillating tools are fitted with a 300w soft start motor offering up to 22,000 oscillations per minute.
Being Dewalt's first cordless multi tool it is exciting to see how to will measure up to longer standing multi tool competitors.