With the Christmas and New Year celebrations all done and dusted, you might think there isn't much to look forward to in the cold month of January. But you would be wrong!
Dewalt have a whole host of new products due to land with us this month and we bring you a run down on what you can expect
First up we have the Dewalt DCK211D2T 10.8v twin pack including DCD710 drill driver and DCF815 impact driver plus 2 x DCB183 2.0Ah batteries in a T-Stak case.
Next we have some additions to the Dewalt brushless range. The DCH273N 18v SDS brushless hammer drill; this is available as a bare unit or as a DCH273P2-GB with 2 x 5.0Ah batteries. This machine has a category leading high speed drill performance at more the 90 holes per charge. A built in belt hook adds to the convenience of using this tool.
If you tend to switch between rotary only and hammer applications while on the job site, the then Dewalt DCH274N is the SDS brushless hammer drill for you. The quick change keyless chuck makes switching applications simple. This unit is also available as a tool only or as a DCH274P2GB with 2 x 5.0Ah batteries.
Casting some light on things, we have 2 new Dewalt work lights. The DCL060 LED area work light has an adjustable light head to direct the light to where it is needed. It is compatible with all 18v li-ion batteries and will run for 3.3 hours on a 5.0 amp DCB184 battery.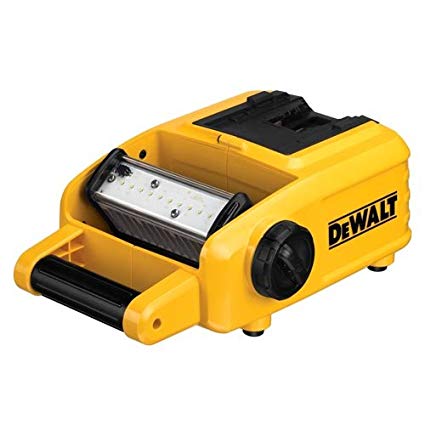 The Dewalt DCL043 LED spotlight torch provides focused high intensity beams. We think this torch would be better suited to large commercial spaces/working outdoors, than close up work as the 1000 lumen output would be too bright. The head can be set in 9 different positions and a hanging hook for maximum versatility and connected up to your 5.0Ah battery; it will run for over 10 hours!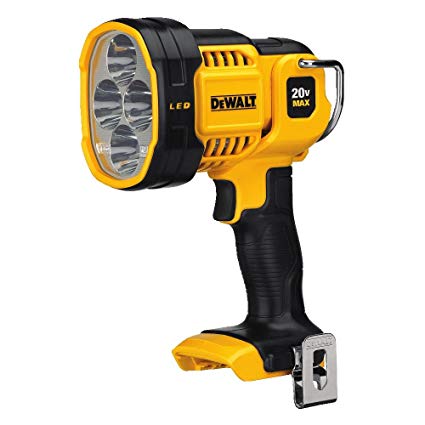 And for the grand finale, we have the Dewalt DCR006 Bluetooth speaker and the Dewalt DCR002 Bluetooth adaptor. The DCR006 speaker is compact in size yet rugged and durable with its rubber over mould housing, perfect for the jobsite. Although the speakers are small they pack a punch in sound. This Dewalt speaker offers a lightweight, portable and convenient solution to music on the job. It allows you to play music from your phone while the phone is kept safely with you and accessible at all times. An aux port enables you to plug in non-Bluetooth devices also. The unit is compatible with 12v and 18v li-ion batteries and can also run on AC.
Keeping on the Bluetooth wavelength, the DCR002 adaptor is compatible with most major brands of jobsite radio as well as any audio device with a 3.5mm aux input allowing you to stream music from your phone or other device. Not plugging your mobile directly into the radio will reduce the risk of the item being stolen, getting damaged or missing calls and texts. The unit is powered by an internal battery which will provide up to 8 hours run time and has a range of up to 100ft. This will be suitable for you as you move around your work space and keep you favourite tunes playing all work day long.