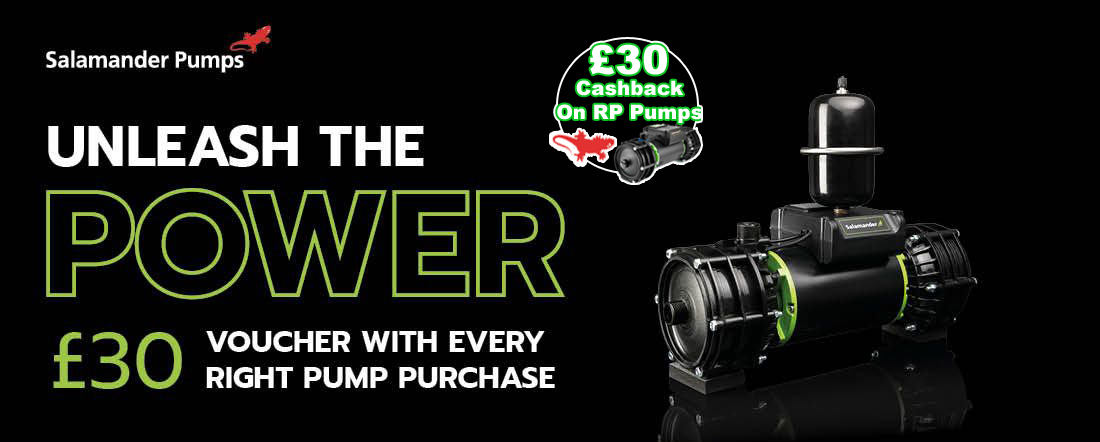 So How Does It Work ?
Salamander RP right pump range cashback special offer! Throughout September and into December 2023, get a £30 Cashback voucher with any Salamander RP Right pump purchase*.
Get a FREE box of Easy Logs when you spend £25 or more on La Hacienda products.
Salamander Right Pumps range utilise centrifugal force to increase water pressure to the whole house, delivering the most powerful and quiet performance of our range. Suitable for use with multiple outlets, including shower, bath, basin, toilet cistern and dish washer.Available in twin and single ended designs, these pumps provide a solution whether you need to boost the shower, bathroom or whole house.
These pumps are extremely quiet and offer a maintained pressure at increased flow rates to boost water performance in a gravity fed system. Available in both positive head and universal Negative Head Shower Pumps.
Right Pump 100 PT pumps — previously going by the names RHP100 and RSP100.

How To Claim Your Casback Voucher*
1. To claim you cashback "Love2Shop or Amazon Voucher ", all you have to do is purchase a " Right Pump RP " and then fill in your details via "CLICK HERE" which should also include your Buyaparcel Invoice, then this can be directly uploaded via the form below, Simple!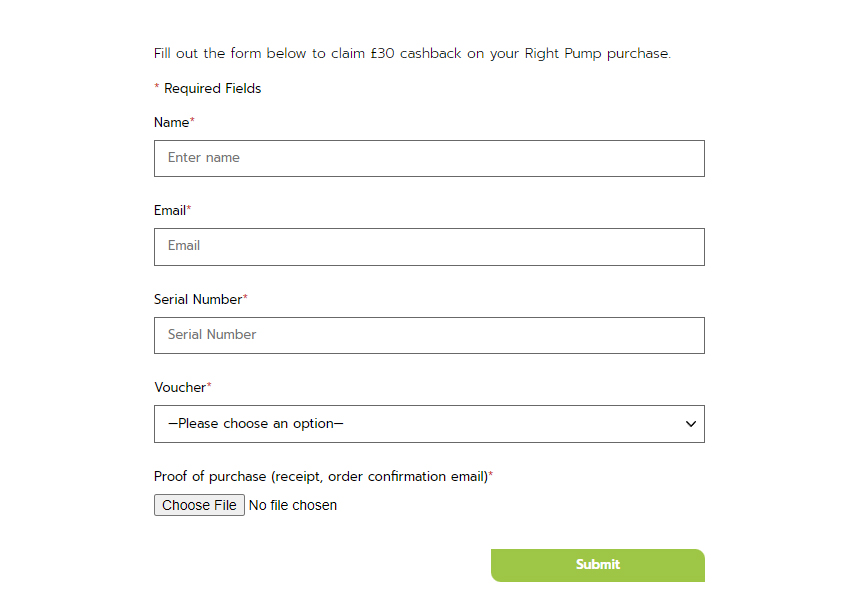 2. Agree to T&C's : The offer is available between 1st September 2023 and 31 December 2023 via the Salamander Pumps website only and we reserve the right to withdraw the offer at any time without prior notice.
While we use reasonable endeavours to estimate the demand for our promotions, all promotions are available while stocks last and are subject to availability.

In stock

- FREE STANDARD DELIVERY to most UK postcodes - Next Day Delivery Available

Salamander RP75PT 2.0 Bar Right Twin Impeller Shower Pump Positive Head & Mat

Stock Code: RP75PT-AVMAT

In stock

- FREE STANDARD DELIVERY to most UK postcodes - Next Day Delivery Available

Salamander RP75TU 2.0 Bar Right Twin Impeller Shower Pump Negative Head & Mat

Stock Code: RP75TU-AVMAT

In stock

- FREE STANDARD DELIVERY to most UK postcodes - Next Day Delivery Available