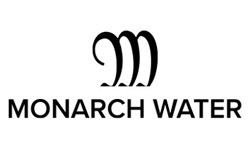 Monarch Sclaeout SXP28 - Water Softener Alternative 1" 28mm Hoses + Install Kit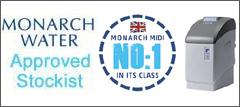 Monarch Sclaeout SXP28 - Water Softener Alternative 1" 28mm Hoses + Install Kit
In stock -
FREE DELIVERY - Order by 3.00pm For Next Day Delivery
Description
Scaleout XP, Monarch s next best thing to a water softener introduces its new advanced technology which is the only limescale control device to permanently remove and prevent the damage caused by hard water.
Whilst reducing the impact of scale it is now more powerful in its performance and protection to remove existing scale and prevent new scale forming, is compact and easily installed, uses no electricity and is the only scale inhibitor giving permanent treatment.
With Monarch s Scaleout XP the quality of the drinking water is not affected. During the limescale prevention process, no minerals or magnesium are removed. It is safe to drink all day, every day.
Scaleout XP is Monarch s ultimate in permanent scale protection for the whole house and its appliances.
The Monarch Scaleout XP offers extensive lime scale prevention 24 hours a day, 7 days a week. It is the most significant advancement in scale prevention in over 100 years.
Its revolutionary process provides quick, efficient and cost effective protection from serious limescale damages.
The quality of the drinking water is not affected. During the limescale prevention process, no minerals or magnesium are removed and no sodium is added to the water. It is safe to drink all day, every day - meaning you do not require a drinking water tap unlike conventional salt softeners.
What are the Main Features of the Monarch Scaleout XP
- Totally drinkable
- No electricity required
- Low maintenance
- Reduces your carbon footprint
- No repair costs due to scale damage
- Targets existing scale
- Prevents new scale forming
- Easy to install full install kit provided
- Compact from only 525mm high
- pH stability suitable for all metals
- Improved texture of the water
- Can help reduce your detergent / washing powder bills*
- Food grade materials throughout
- Suitable for whole house protection
With pH stability (unique to Monarch Scaleout), Scaleout water is ideal for all types of central heating systems including boilers with stainless steel or aluminium heat exchangers.
What are The Main Differences Between the Monarch Scaleout XP and a Typical Water Softener
Comparing the Monarch Scaleout with a Monarch Water Softener (e.g Monarch Midi).
If both ranges of Monarch Water Softener were awarded a star rating for their performances, a Monarch salt based softener would enjoy a 5 star rating, as they produce every possible soft water benefit.
However, Monarch recognises that there is a sector of the public who are simply looking for protection against the damage caused by hard water scale. The Monarch Scaleout range is perfect for those who are seeking an alternative solution to hard water problems outside of a conventional salt based water softener.
What makes the Monarch Scaleout XP different
Other products such as magnets, electrolytics, wrap-arounds, sacrificial anodes, multi-core solutions etc (the list is almost endless), can only offer a temporary suspension of scale formation. In many cases the effects these products bring last only a couple of hours, therefore any stored water such as that within a tank, coil, etc will automatically revert back to scale causing, harmful water overnight.
Monarch's Scaleout XP is the only product that gives a permanent suspension of scale creation. Even if they go on holiday or indeed travelling for 6 months, Scaleout water will not revert back to its original state, giving your customers complete peace of mind.
Scaleout XP also targets existing scale, returning their boiler and appliances to maximum efficiency and lower running costs from the moment it's installed.
What are the Benefits of the Monarch Scaleout XP
1) Lower Costs
The average hard water home can spend between 200 and 240 a year to overcome the effects of hard water. The harder the water, the more cleaning agents and laundry detergents are required. Appliances life expectancy is significantly reduced. The life expectancy of a boilers heat exchanger is reduced by up to 80% with a hard water supply!
A Monarch Scaleout will immediately target your existing scale, returning your boiler and appliances to maximum efficiency and lower running costs. Additionally, unnecessary scale related costs for the repair and maintenance of appliances can be prevented. Remember, with a scaled boiler, you have to heat the scale before you can heat the water. Just 2mm of scale will increase your hot water bills by 12%. 3mm and it rises to nearly 25%!
2) Protected Appliances
Shining plates, bowls etc. - a dream or reality Times when your washing machine / dishwashers' performance is affected by hard water lie in the past. In future, with Scaleout water, your plates, bowls etc. will no longer have unsightly hard scale residue.
3) The Perfect Flavour Carrier
A Monarch Scaleout gives you the ideal water for home and industry, and is perfectly suited for the production of hot and cold drinks too.
Valuable minerals including magnesium (a health giving mineral and powerful flavour carrier) are retained in the water, to give you the perfect cuppa at any time of day.
4) Peace of Mind
You can have improved Peace of Mind knowingthat with the Monarch Scaleout you have ...
Lower heating bills
Lower household bills
An efficient boiler
Protected appliances
Drinking water rich in vital minerals
Choosing the Correct Monarch Scaleout XP for Your Property
Alternatively we also sell Water Hardness Test Strips which can also be used. Most of the UK have a hardness below 500PPM and will require the "Non Plus" Monarch Scaleout. Areas of Norfolk, Suffolk and North Essex have varied water hardness so the Scaleout Plus may be needed in certain areas where hardness is over 500PPM.
Unlike conventional Water Softeners the Monarch Scaleout unit is selected on 3 main principles:
1) Your Type of Plumbing System: Standard Gravity Fed Systems (tank in loft), Combi Boiler, Unvented, Megaflow and Pressurised Systems.
2) Maximum Flow Rate Required (often governed by your plumbing system).
3) The Hardness of the water in your area. If you are not sure what that is you can find this out by using one of our Hardness Test Strips or by contacting your water board.
You can see it clearly using Monarch's own illustrated table guide below, which outlines your requirements alongside which Scaleout would best suit you.
| | | | | | | |
| --- | --- | --- | --- | --- | --- | --- |
| Applications | Max Rec Flow (LPM) | Rec Model up to 500ppm | Standard Connections | 1" Upgrade Available | Dimensions (Dia x Height x Width) | Post Filter Reference |
| 15mm Supplies -Combi Boiler / Gravity Fed Systems | 30 | SXP15 | 3/4" MBSP | - | 195 X 525 X 450 | SXPPF5 |
| 22mm Supplies - Unvented / Pressurised / Megaflo | 45 | SXP22 | 3/4" MBSP | - | 220 X 525 X 450 | SXPPF5 |
| 28mm Supplies | 60 | SXP28 | 1" MBSP | Standard | 220 x 660 x 450 | SXPPF10 |
| Light Commercial | 75 | SXPLC | 3/4" MBSP | Yes | 270 x 1110 x 480 | SXPPF10 |
Pressure drops at maximum flow rates: SXP15 at 0.3 bar. SXP22/28 at 0.4 bar. SXPLX at 0.9 bar.
For Extreme Hardness over 500ppm please choose the "PLUS" model
So How Does the Scaleout XP Work
Water contains two different types of hardness ions, but only one causes scale. This is called a calcium ion. The scale causing calcium ion (dissolved limescale) passes through a bed of food grade ceramic beads within the unit, and is transformed into a non-scale causing calcium crystal.
The crystals attach themselves to the beads. When they reach a certain size, they release themselves from the beads back into the water, where they adhere themselves to the Post Filter. As a result of this physical change (permanent), scale no longer has the possibility of forming on surfaces including heating coils and elements, fittings, or the inside of pipes etc. The water becomes both non-scale forming and also descaling, offering many benefits to the homeowner in its performance.
Additionally, Monarchs unique CBT ensures pH stability and corrosion control in all types of water. It is the only one available to give this guarantee.
The beads have a life expectancy of 3 to 5 years (3 years guaranteed), as determined by the cleanliness of the incoming water supply (not water hardness). Replacement packs can be supplied for easy DIY changing, or alternatively Monarch can offer a full exchange service.
All models recommended for use on a potable water supply only. All units incorporate a Post Filter to collect the calcium crystals. The Post Filter has a low cost internal cartridge that is to be changed annually. It can be connected directly to the unit (as pictured) or be remote mounted if preferred. A remote mounting kit is included with every unit. The SC1 does not include a post filter a standard.
This post filter can be fitted rigid next to the unit as shown above or via a short chrome braided hose provided as below.
Specifications
Specifications of the Monarch Scaleout SXP28
Min - Max Operating Pressure: 1.5 - 5bar
Temperature: 4 - 50C
pH: 6.5 - 8.5
Max Iron Content: 0.3 mg/l
Max Manganese Content: 0/05 mg/l
Max Copper Content: 0.3 mg/l
Oil and Phosphates Free
H2S Free
Approvals and Compliances
NSF/ANSI - 61: Drinking Water System Components
BS6920 Material Compatibility
ACS Certified
The Monarch Scaleout SXP28 is supplied with a 1" upgrade and 28mm installation valves with steel braided maxflow hoses. The water hardness must be less than 500ppm if not a plus model will be required.
EAN: 5055995537005
Tens of thousands of homes and businesses across the UK enjoy the benefit of a Monarch water softener.
Monarch Water Softeners have proven performance, reliability and efficiency supported by a 7-year guarantee* ensuring that the Monarch water softener is the right choice for your home.
Monarch Water Guarantee Details - for any faults with your Monarch Water Softener in its guarantee period call 01986 784759
Monarch Ultimate Series Water Softeners - Monarch Midi, Monarch Master, Monarch Mini Aqua
*7-Year parts and 2 year labour guarantee
Monarch Plumbsoft Solo and Solo Ultra - Non Electric Water Softener 
*7-Year parts and 2 year labour guarantee
Monarch Scaleout
3 Year Warranty
Inline / Triflo Taps - 1 year guarantee
If your particular model isn't listed above, your product is covered by a 1 year warranty.
For further information on the warranties on these products see the Monarch Water Softener website
Buyaparcel offer delivery throughout the United Kingdom, including Northern Ireland, Scottish Highlands and other Islands of the UK. In addition we can now also deliver through Europe.
UK Delivery Prices
Standard delivery is free for all orders with no minimum order charge* to a UK delivery address for parcels and packets only. Pallets and large items will unfortunately incur a delivery charge calculated at the checkout depending on delivery postcode.
In additional to our standard service we also offer some premium delivery services if you need your item quickly
£0.00 - Standard UK Delivery (2-3 Days Approx)
£2.99 - Next Day UK Delivery (Orders placed before 3.00pm Monday - Friday)
£8.99 - Saturday Delivery (Orders placed before 3.00pm Friday)
£36.00 - Pallet Delivery (2-3 Days Approx - selected products only)
* surcharges can apply to certain postcodes depending on the service type. For full details visit our Delivery Guide.
Alternatively if you view your parcel once items have been added and enter your postcode you will see what derlivery services are available

International Delivery Prices

In addition we now deliver through Europe on a 48 Hour Delivery Service as Standard

Zone 1 – £9.99
Belgium, Germany, Luxembourg, France, Netherlands, Rep Ireland.

Zone 2- £14.99
Austria, Denmark, Czech Republic, Poland, Lithuania, Hungary.

Zone 3 – £19.99
Estonia, Spain, Sweden, Italy, Portugal, Latvia.

Zone 4 – £29.99
Bulgaria, Finland, Romania.

Zone 5 – £49.99
Bosnia, Croatia, Switzerland.

Zone 6 – £59.99
Norway, Serbia, Iceland.

Is My Item Available for Next Day Delivery?

If your item is stocked in our immediate picking location it will available for you to choose a next day delivery. This will be highlighted by a green tick and a 1 day dispatch time on the item information.





You will have the option to choose this service if you are purchasing your item for delivery to mainland UK.

What courier will my item be delivered with?

If your item is being delivered in the UK or Ireland, it will be delivered by UK Mail/DHL, Hermes or Royal Mail, with the exception of pallet items.

If you are an international customer, your goods will initially be sent via UK Mail/DHL, and then exported to either Eurodis or DHL. The appropriate tracking can be provided when necessary.

Details of each courier service we offer are detailed in our Delivery Guide.
We've simplified our returns process! We now offer a no-questions-asked, free returns service within the first 30 days (subject to T&Cs).

You can find our returns information in our Terms and Help page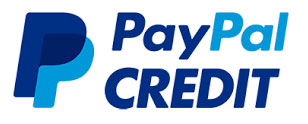 Spread the cost of your Buyaparcel purchase with Paypal Credit - Get 0% finance over 4 months! The perfect way to spread the cost of any purchases of £99 (inc vat) or more
Applying is that simple. If approved and you accept, you'll have a credit limit added to your PayPal account ready to use immediately. Plus, you'll automatically get 0% interest for 4 months on all your purchases of £99 or more.*

How to apply for Paypal Credit with Buyaparcel?
You have 2 ways to purchase from us with the option us using Paypal Credit.
1 - From the product page you can use Paypal Express Checkout which will take you straight to your Paypal account where you can login to complete payment or apply for Paypal Credit.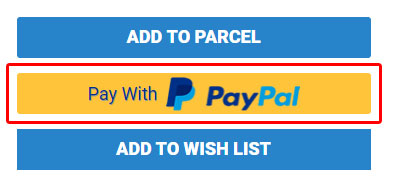 2 - If you add your product to your parcel and click "Proceed to Checkout" you will then go to our payment page. Select "Paypal Express Checkout" from the payment methods available and click "Place Order".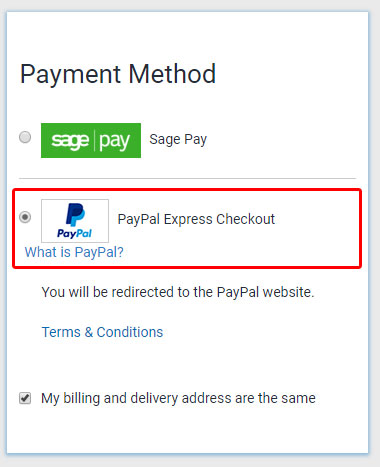 Once you are in your Paypal account choose PayPal Credit from the payment options.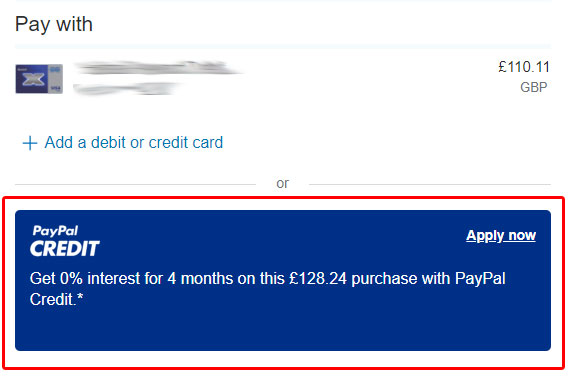 If this is the first time you have used PayPal Credit, you will be asked to complete a short application form to apply for PayPal credit.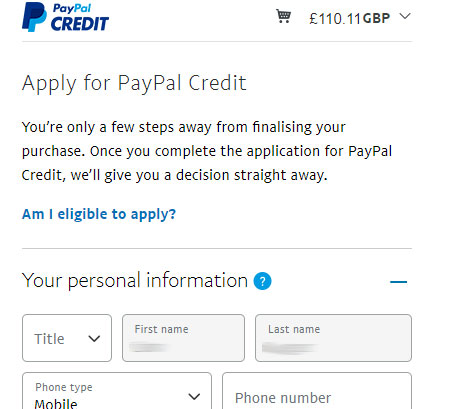 More Information on Paypal Credit