The DEWALT POWERSTACK utilises pouch cells to give you greater productivity than before.
Higher max watts out, so there's a greater range of applications, Faster speed of application, giving you increased output and more jobs done, Improved thermal performance. Pouch cells run cooler in application and dissipate heat better than cylindrical cells, Create less heat resistance which means fewer hot pack, shutdowns meaning less downtime and more productivity, Increased cycle life, which means better performance for longer
Dewalt Powerstack Batteries - The Next Dimension in Power
The DEWALT POWERSTACK Battery is DEWALT's most powerful, compact, and lightweight battery system to date.

The Powerstack features a 2X the lifetime based on charge cycles vs. DEWALT 2Ah Compact Batteries (DCB183), this breakthrough innovation will move the industry forward.



The DEWALT 18V POWERSTACK compact battery will work with the full 18V XR range of tools & batteries, making it easy to add to your existing kit. Delivering up to 50% more power* in a 25% more compact** housing, makes it perfect to get into those hard to reach areas whilst maximising the space in your toolbox.

* vs. DCB183 battery, not in application ** footprint vs. DCB183 Battery
As of September 2022 Dewalt have launched the 5.0ah Powerstack Battery
DeWalt DCBP518 18v 5.0ah Compact Powerstack Battery Pack DCBP518-XJ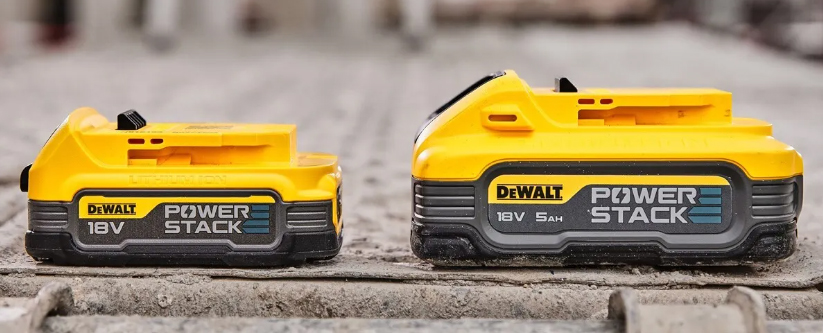 The DEWALT Powerstack DCBP518 5.0ah 18v Battery utilises pouch cells to give you greater productivity than before. Get 50% more power* enabling faster application speeds and increased productivity with more than 50% more work per charge** using this battery that works with all the 18V XR tools you already have.
DeWalt DCBP034 18v Compact Powerstack Battery DCBP034-XJ - Twin Pack Batteries

Stock Code: DCBP034_2

In stock

- FREE STANDARD DELIVERY to most UK postcodes - Next Day Delivery Available

DeWalt DCBP034 18v Compact Powerstack Battery DCBP034-XJ - 5 Batteries

Stock Code: DCBP034_5

In stock

- FREE STANDARD DELIVERY to most UK postcodes - Next Day Delivery Available

DeWalt 18v Compact Powerstack Battery & Charger Starter Set DCB112 + 2 x DCBP034

Stock Code: DCB1102E2-KIT

In stock

- FREE STANDARD DELIVERY to most UK postcodes - Next Day Delivery Available

DeWalt DCBP034 18v Compact Powerstack Battery DCBP034-XJ

Stock Code: DCBP034-XJ

In stock

- FREE STANDARD DELIVERY to most UK postcodes - Next Day Delivery Available