The Home For DeWalt POWERSTACK Batteries @ Buyaparcel
Dewalt Powerstack Batteries - The Next Dimension in Power
The DEWALT POWERSTACK Battery is DEWALT's most powerful, compact, and lightweight battery system to date.

The Powerstack features a 2X the lifetime based on charge cycles vs. DEWALT 2Ah Compact Batteries (DCB183), this breakthrough innovation will move the industry forward.



The DEWALT 18V POWERSTACK compact battery will work with the full 18V XR range of tools & batteries, making it easy to add to your existing kit. Delivering up to 50% more power* in a 25% more compact** housing, makes it perfect to get into those hard to reach areas whilst maximising the space in your toolbox.

* vs. DCB183 battery, not in application ** footprint vs. DCB183 Battery
As of September 2022 Dewalt have launched the 5.0ah Powerstack Battery
DeWalt DCBP518 18v 5.0ah Compact Powerstack Battery Pack DCBP518-XJ

The DEWALT Powerstack DCBP518 5.0ah 18v Battery utilises pouch cells to give you greater productivity than before. Get 50% more power* enabling faster application speeds and increased productivity with more than 50% more work per charge** using this battery that works with all the 18V XR tools you already have.
This DCBP518 battery provides twice the lifetime*** and features an impact-resistant, overmolded base with non-marring material.

Powerstack battery technology - the most powerful, compact and lightest weight battery. The next dimension of power is now available in 5.0ah

*vs. DEWALT DCB184 battery, not in application **Usable energy vs. DEWALT DCB184 battery, not in application ***Charge cycles vs. DEWALT DCB184 battery.
Dewalt have launched the Powerstack battery platform with a range of G3 series machines including the much anticipated DCF850N Compact Impact Driver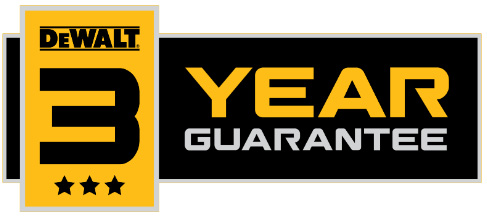 Dewalt are so confident in the durability of the POWERSTACK battery, that they are offering our 3 year guarantee for the first time ever on a DEWALT battery.
Terms and conditions apply.
If you cant find what you are looking for here then check our complete Dewalt catalogue