Triton Pumped Electric Showers - Powerful Triton Electric Showers
Triton Pumped Electric showers : The term pumped shower generally relates to a setup where the actual shower unit is mounted on the wall of your shower and the water pump is located elsewhere, such as in the loft or airing cupboard beside your cylinder, usually withing a few meters of the bathroom.
An electric pumped shower both pressurises and heats the water. They are generally found in homes where the water pressure is low, so the idea of this is to boost your pressure.
Pumped showers can be more expensive compared to electric showers or power showers because of their extra pressure features. Bear in mind when fitting this type of system, a larger tank and hot water cylinder may need to be employed to cope with the higher water demand.
What is a pumped electric shower? And what do we recommend?
Pumped electric showers are in essence the same as an electric shower, they both require a cold mains plumbing system and look very similar in design. The difference lies internally with a pumped electric shower featuring an integral pump for boosting very low or fluctuating water pressures.
Triton T80SR 8.5kW Pumped Tank Fed Electric Shower Silent Running + Riser Rail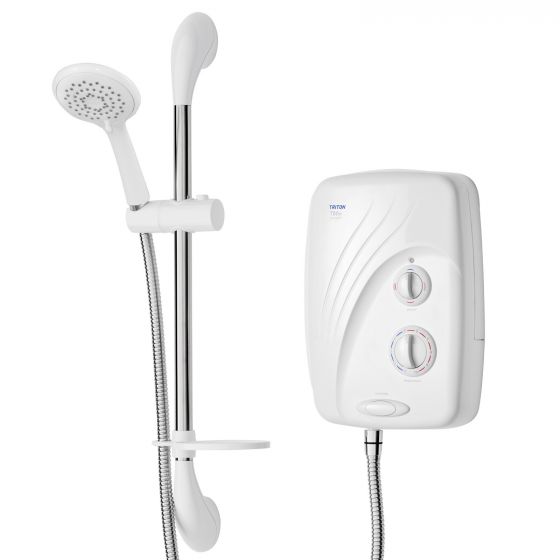 One of Tritons best selling Pumped shower is the T80SR, A problem solving silent running pumped electric shower specifically for areas with low mains water pressure. The T80SR directly replaces the T80SI pumped electric shower and offers a sound reduction of 79 to 60 decibels.
Styled on the best selling T80si; the Triton T80SR silent running pumped electric shower is a tank-fed integral pumped electric shower designed for installat