Trend Router Range
For over 60 years Trend has been leading the way in innovation & expertise in routing. Whether a beginner or a professional, Trend has the right machine for you, 110v, 240v or even 18v!
High-performance plunge router with advanced safety features, engineered to deliver reliable, fast, accurate cuts. Ideal for hand-held and Router Table use.
Please see the table below to help you choose the correct router for you!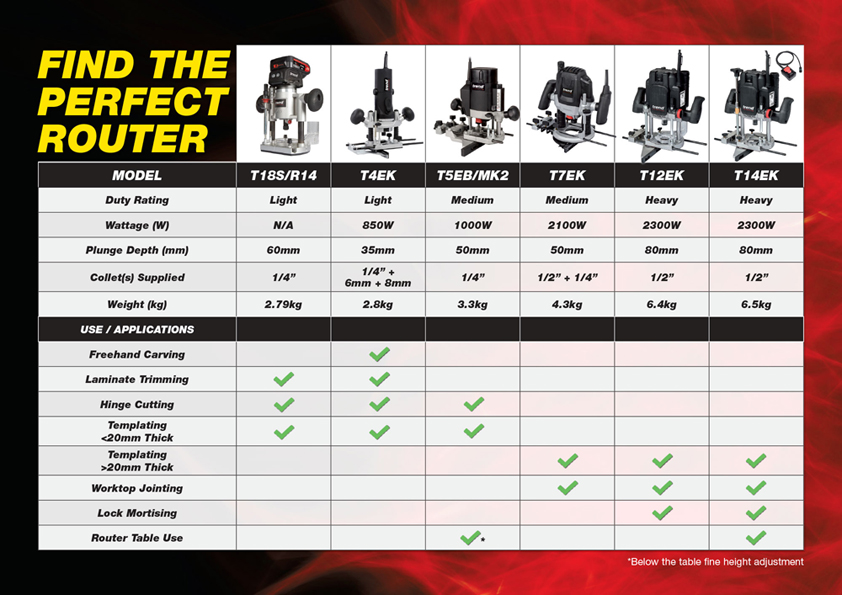 In stock

- FREE STANDARD DELIVERY to most UK postcodes - Next Day Delivery Available

In stock

- FREE STANDARD DELIVERY to most UK postcodes - Next Day Delivery Available

Trend T14EK 2300W Variable Speed Plunge Router 240V 6pc Cutter Set Stealth Mask

Stock Code: T14EK_KIT1

In stock

- FREE STANDARD DELIVERY to most UK postcodes - Next Day Delivery Available

Trend T4EK 240v 1/4in Compact Variable Speed Plunge Router 850W + x6 1/4 Cutters

Stock Code: T4EK_KIT1

In stock

- FREE STANDARD DELIVERY to most UK postcodes - Next Day Delivery Available

Trend T7EK 1/2in 2100W Plunge Cut Router 240V + Kitchen Worktop 50mm Cutter Set

Stock Code: T7EK_KIT2

In stock

- FREE STANDARD DELIVERY to most UK postcodes - Next Day Delivery Available