Trend 110V Range
For over 60 years Trend has been leading the way in innovation & expertise in routing. Whether a beginner or a professional, Trend has the right machine for you.
The 110v Range is no different allowing you High-performance plunge router with advanced safety features, engineered to deliver reliable, fast, accurate cuts. Ideal for hand-held and Router Table use.
Trends 110v Range has an selection of different routers allowing you different plunge cuts and different spec motors depending of your needs for either DIY or Trade use !
One of the most popular 110v is the " T12 - 2300W ½" Variable speed plunge router.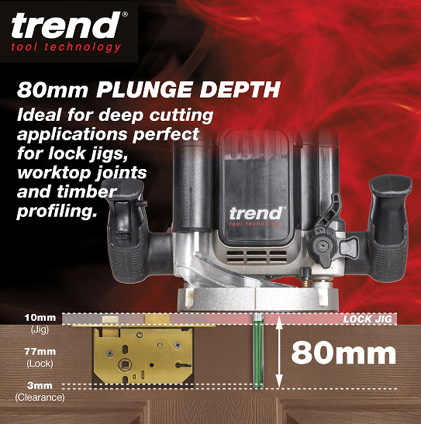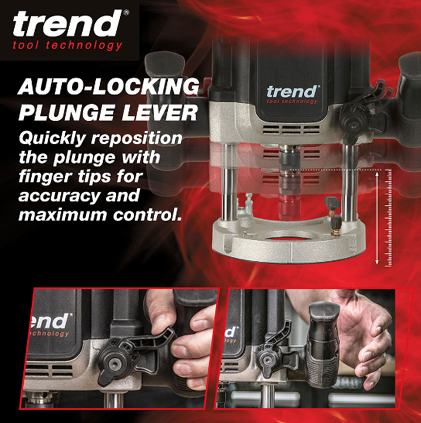 Trend Base configuration is a standardised fixing pattern of holes that allow routers to be attached to a range of compatible tables, jigs and accessories.
Precision centering system contains a unique guide bush centring pin and adaptor plate ensures perfect concentricity between cutter and guide bush for pinpoint accuracy with routing jigs.
Uprated motor delivers consistently high torque to prevent overloading in demanding situations and a faster top speed to produce a finer finish in high-speed applications.
Soft Start prevents tool movement on start-up for a smoother and safer user experience .
In stock

- FREE STANDARD DELIVERY to most UK postcodes - Next Day Delivery Available

In stock

- FREE STANDARD DELIVERY to most UK postcodes - Next Day Delivery Available

Regular Price

£115.14

Special Price

£103.92

£86.60

Trend T7ELK 1/2in 1750W Variable Speed Router Plunge Cut 110V 6 Piece Cutter Set

Stock Code: T7ELK_KIT2

In stock

- FREE STANDARD DELIVERY to most UK postcodes - Next Day Delivery Available