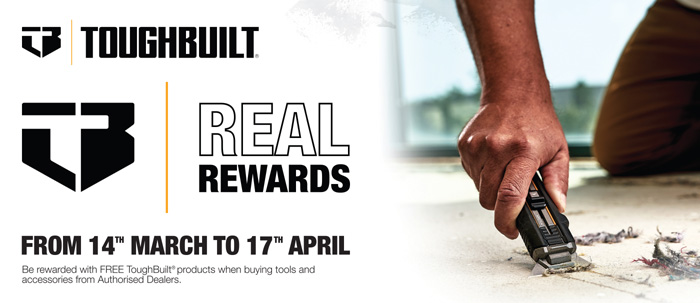 ToughBuilt Real Rewards - Sawhorses | Tool Pouches | Knee Pads for Work
ToughBuilt Offers Free Rewards with Buyaparcel.com
As a ToughBuilt Authorised Dealer we are pleased to offer this ToughBuilt Free Rewards redemption promotion.
The ToughBuilt Real Rewards promotion is available on all purchases between 14th March - 17th April 2022
ToughBuilt - the US manufacturer of premium quality tools and jobsite products – are offering redeemable free ToughBuilt product with the purchase of selected lines for a limited-time only in the United Kingdom.
ToughBuilt's Real Rewards celebrates the award-winning Scraper Utility Knife; where they're giving away a free one with each purchase of a twin-pack of ToughBuilt® C550 Sawhorses, 45cm Modular Tote Bag or Tool Backpack.

ToughBuilt are also adding in an extra 30 pack of replacement blades, along with the Scraper Utility Knife, with the purchase of a twin-pack of ToughBuilt® C700 Sawhorses.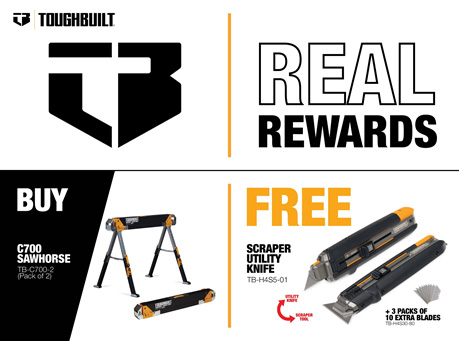 A world first, which fully reflects ToughBuilt's commitment to intelligent design, the Scraper Utility Knife combines two commonly used hand tools in one innovative product, with the click of a button.
Other rewards on offer include a Modular Hammer Loop, which can be clipped to any belt or pouch pocket to securely hold a hammer. This reward is being offered to anyone who buys a pair of their best-selling ToughBuilt® GelFit™ Fanatic Thigh Support Stabilisation Knee Pads.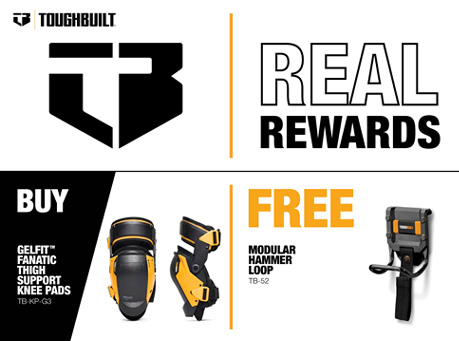 Finally, ToughBuilt is offering a free ClipTech™ Project Pouch and Hammer Loop to anyone who buys a hard body Large Rolling Massive Mouth Bag. The pouch can be conveniently attached to the tool bag using ToughBuilt's innovative ClipTech™ technology.
The ClipTech™ system allows users to achieve a whole new level of organisation and convenience. Using a unique attachment point called the ClipTech™ Hub, the system allows belts, pouches and holsters to be quickly and easily attached and detached to tool belts, tool bags, totes and wall organisers.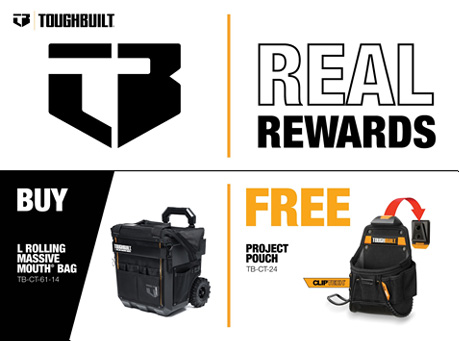 How to claim a ToughBuilt Real Reward?
For end users to claim their rewards, participants upload their qualifying proof of purchase at the dedicated Real Rewards website: www.toughbuiltrewards.co.uk.
You will receive a copy of your invoice with the goods.

ToughBuilt will then post the reward to them directly.
All Real Rewards Offers:
Buy: ToughBuilt Twin-pack of C700 Sawhorses (TB-C700-2) / Free: ToughBuilt Scraper Utility Knife (TB-H4S5-01) & 30 Replacement Blades (TB-H4S30-80)
Buy: ToughBuilt Twin-pack of C550 Sawhorses (TB-C550-2)/ Free:ToughBuilt Scraper Utility Knife (TB-H4S5-01)
Buy: ToughBuilt 45cm Modular Tote Bag (TB-81-18) / Free:ToughBuilt Scraper Utility Knife (TB-H4S5-01)
Buy: ToughBuilt Tool Backpack (TB-66C) / Free:ToughBuilt Scraper Utility Knife (TB-H4S5-01)
Buy: ToughBuilt GelFit™ Fanatic Thigh Support Stabilisation Knee Pads (TB-KP-G3)/ Free: ToughBuilt Modular Hammer Loop (TB-52)
Buy: ToughBuilt Large Rolling Massive Mouth Bag (TB-CT-61-14)/ Free: ToughBuilt Project Pouch and Hammer Loop (TB-CT-24)
Commenting on Real Rewards, ToughBuilt's Matt Handley said: "Due to the high quality, technically advanced nature of our hand tools and accessories, ToughBuilt has built up a large and loyal following of customers across the UK. We believe that loyalty should cut both ways and the launch of our Real Rewards promotion reflects that. It's a great way of saying thank you to customers and of enabling them to explore different products from across our range."