Telesteps Rescue Line is the first telescopic ladder in the world where 3 people can use the ladder at the same time. It is the 2nd generation with the revolutionary triangular tube design. This makes the ladder stronger and more torsionally rigid than ever before.
When Telesteps created the Rescue ladder it needed to consider the change in enviroments for rescue personnel worldwide. The Rescue is specifically designed for these purposes.
The Rescue is certified according to the European norm EN 1147, specifically designed for fire- and rescue workers, which is one of the hardest certifications to obtain for a telescopic ladder. This means it can handle loads up to 500 kg or 3 people.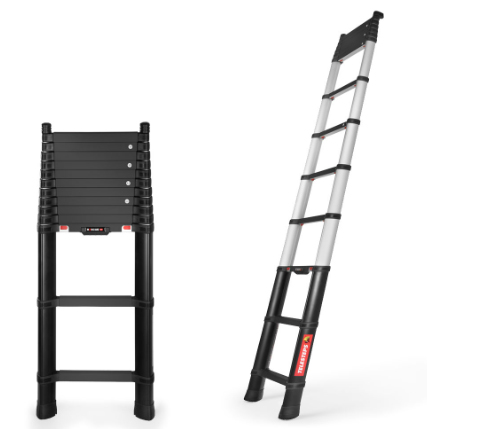 > Specifically designed for fire-, military and rescue workers
> First telescopic ladder in the world where 3 people can use the ladder at the same time or 500 kg load
> Second generation of telescopic ladders with the revolutionary triangular tube design
> Angled rubber feet and steps for better stability and maximum safety
> Simple to transport, Simple and safe unlocking
> Compact and easy to carry with – Light but strong
> Made of high quality anodised aluminium with glass fibre reinforced plastic fittings
> For professionals by professionals
Telesteps 9205-201EN Rescue Line Maintenance Kit TEL9205201EN

Stock Code: TEL9205201EN

Available

- Delivery within 3-4 Working Days

Telesteps 72741-521 Rescue Line Firefighters Telescopic Ladder 4.1m TEL72741521

Stock Code: TEL72741521

Available

- Delivery within 3-4 Working Days

Telesteps 72741-521B Rescue Line Military Telescopic Ladder 4.1m TEL72741521B

Stock Code: TEL72741521B

Out of stock - This Product is Currently Unavailable