When the mains supply is insufficient for the demand for water in the home, the products in the MainsBooster range provide a solution. The products in this range will deliver a range of flow rates from 7 litres per minute (L/min) to 36 litres per minute (L/min), so there's a product suitable for most properties.
Mains Fed: Combination Boiler
Combination boilers are directly supplied from the mains water. This means that the water pressure and flow within these systems may fluctuate at different times of the day, such as when your neighbours are also using water.
If you've got poor mains supply you may constantly suffer with poor water pressure and flow.
An inline pump or accumulator tank will provide a solution.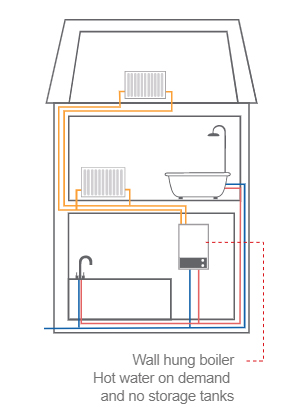 Mains Fed: Unvented Cylinder
In an unvented system hot water is stored within a pressurised cylinder. Both hot and cold water are supplied at the pressure and flow rate of the incoming mains.
A 450L accumulator can provide a solution when higher flow rates are required in an unvented system.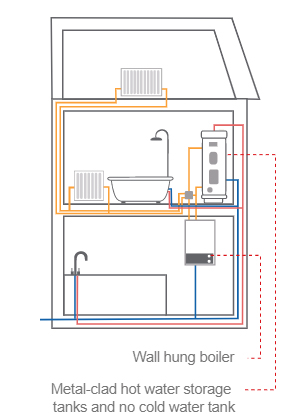 Salamander HomeBoost— A mains water booster pump. If you are experiencing poor water pressure or flow either directly or indirectly via your combi boiler or mains pressure fed heating system, then this could be the perfect, low cost, compact solution for you.
Single Outlet Booster Pump TapBoost provides an easy to install, quiet, cost-effective solution when a tap, toilet, dishwasher or washing machine suffers with poor water flow. Suitable for mains and gravity fed systems, TapBoost will boost the water flow to a single outlet to between 7 – 11 l/min depending on the incoming flow.
Mains Booster Pump CombiBoost boosts the mains water supply to combination boilers up to 10 litres per minute. It sits directly on the incoming mains water and boosts water flow, making it an ideal solution for properties with low mains supply.
Salamander AccuBoost - AccuBoost accumulators deliver increased water flow for properties where the current mains water supply is insufficient, improving the performance of a combination boiler. Also suitable for use with unvented cylinders. Available in pumped and unpumped models to suit the requirements of the property.
Salamander AccuBoost 330L Pumped Accumulator Tank Mains Booster Water Pump 330 L

Stock Code: ACC-330-SYS

Available

- Delivery within 5-7 Working Days

Salamander Home Boost Mains Fed Pressure Booster Pump Installation Fittings Kit

Stock Code: CHBFIT01

In stock

- FREE STANDARD DELIVERY to most UK postcodes - Next Day Delivery Available

Regular Price

£27.99

Special Price

£23.65

£19.71

Salamander Home Boost Mains Fed Pressure Booster Pump Homeboost & Install Kit

Stock Code: HOMEBOOST_CHBFIT01

In stock

- FREE STANDARD DELIVERY to most UK postcodes - Next Day Delivery Available

Salamander Home Boost Mains Fed Pressure Booster Pump Homeboost

Stock Code: HOMEBOOST

In stock

- FREE STANDARD DELIVERY to most UK postcodes - Next Day Delivery Available