Salamander CT Xtra pumps are hard-working and affordable. With models suitable for boosting water pressure to a thermostatic shower or tap in a positive head, gravity fed system. Our best-selling range of twin and single ended shower pumps will boost hot and cold water supplies in a positive head installation.
We stock a wide range of Salamander CT Xtra regenerative pumps. Salamander pumps are known for their reliability, quality, and effective operation, making them ideal for many different types of applications and installations. A Salamander regenerative pump from the CT Xtra range will make for an ideal shower pump in a domestic or small-scale commercial setting. This can give a boost to showers in a low-pressure context or else provide powerful showers for an invigorating experience and fast, effective personal cleaning.
Is my system suitable for a positive head pump?
A gravity fed system is either positive head or negative head, depending on the natural flow rate of the water in the home.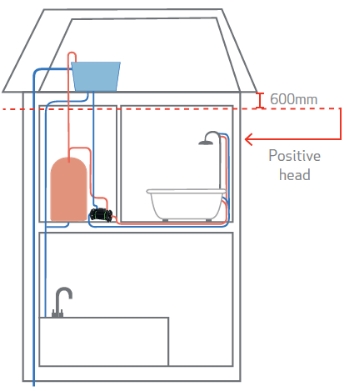 Watch the video at the bottom of the page to learn how to measure the water flow rate and discover when a positive head will work for the system.
If you are unable to achieve the minimum flow rate of 2 litres per minute from all hot or cold water outlets that are to be pumped, you will need to install a universal (negative head) pump.