Makita 40V Max XGT Cordless Tool Range
Makita have launched the 40V max XGT cordless power tool range which is a standalone system to run alongside the established 18v LXT platform.
The Makita XGT 40v range is suitable for higher demand industrial applications. It is not just a case of a bigger battery meaning more power, Makita have developed their battery technology and motor engineering to work together to ensure optimum performance.
The XGT range of tools and batteries come with a built-in program, providing digital communication between the battery and tool. Allowing not only for the battery to talk with tool but also the tool to talk to the battery. This provides Makita XGT a foundation to adapt to even higher technology advances in the future.
Reliable tools are something we are all looking for in professional applications, look no further, the XGT range is durable and built to perform!
The Makita XGT batteries are designed to include impact absorbing padding and a heavy-duty outer casing.
The tools them self-have been built to include added housing and battery terminal strength. XGT batteries and tools are also built to withstand tough environmental conditions.
The tough XGT construction design is supported by a charging system that charges batteries in as little as 28 minutes. Further making the XGT platform the most reliable on the market.
Makita have been leading the way in cordless tool innovation and technology with its 18v LXT range. The XGT and LXT will stand side by side to offer you a line-up of cordless tools for professional trade applications all the way up the high demand industrial applications.
So the big question is are the Makita 40v XGT and 18v LXT ranges compatible?
The Makita XGT 40v tools is not compatible with 18v LXT batteries (and vice versa) but a Makita ADP10 charging adaptor will let you charge both types of batteries when using the DC40RA XGT charger.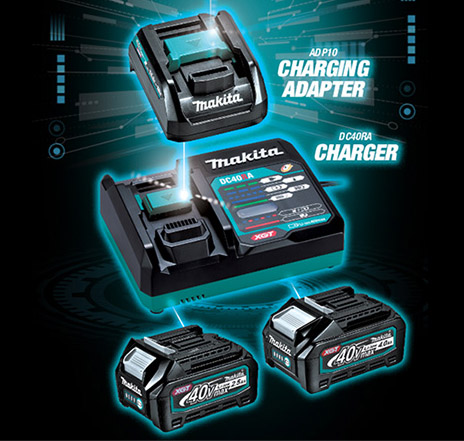 Makita BL4020 X 2 40V Max XGT 2.0ah Battery + DC40RA Rapid Fast Charger Pack

Stock Code: DC40RA_2XBL4020

In stock

- FREE STANDARD DELIVERY to most UK postcodes - Next Day Delivery Available

Makita SP001GZ03 40v MAX XGT Brushless Plunge Saw 165mm + 2x 1.5m Rails + Bag

Stock Code: SP001GZ03-KIT1

In stock

- FREE STANDARD DELIVERY to most UK postcodes - Next Day Delivery Available

Makita SP001GZ03 40v MAX XGT Brushless Plunge Saw 165mm + 2x 1.5m Guide Rails

Stock Code: SP001GZ03-KIT3

In stock

- FREE STANDARD DELIVERY to most UK postcodes - Next Day Delivery Available

Makita BL4020 40V Max XGT 2.0ah Battery + DC40RA Rapid Fast Charger Twin Pack

Stock Code: DC40RA_BL4020

In stock

- FREE STANDARD DELIVERY to most UK postcodes - Next Day Delivery Available