So How Does It Work ?
La Hacienda summer special offer! Throughout July and into August 2023, get a free box of Easy Logs with any La Hacienda purchase*.
Get a FREE box of Easy Logs when you spend £25 or more on La Hacienda products.
Easy Logs are the ideal fuel for outdoor cooking and heating – they're clean, easy to use, environmentally friendly and burn for up to 2 hours at a time.
How To Claim Your Easy Logs:

1. To claim your free pack of Easy Logs spend on La Hacienda products is £25, then fill in your details via "CLICK HERE" , which should include your "Buyaparcel Invoice," this can be done via your invoice or a photograph of your invoice uploaded directly via the form below.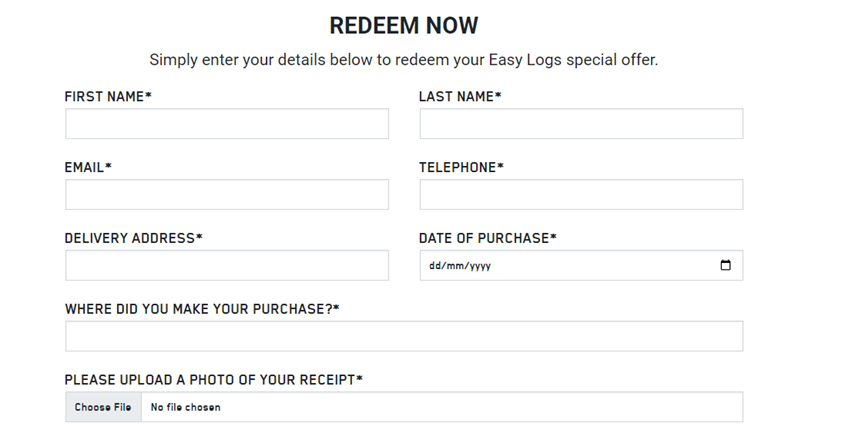 2. Agree to T&C's : The offer is available between 1 July 2023 and 31 August 2023 via the La Hacienda website only and we reserve the right to withdraw the offer at any time without prior notice.
The final date to claim for the redemption is Friday 15th September 2023.
While we use reasonable endeavours to estimate the demand for our promotions, all promotions are available while stocks last and are subject to availability.
In the event that demand exceeds our projections we reserve the right to withdraw the promotion at any time without notice.
This redemption is capped at 1,500 boxes of Easylogs and is based on a 'when it's gone, it's gone' basis.
All orders are subject to availability.
The minimum qualifying spend on a La Hacienda product is £25 at retail purchase price.
Your free redemption will be dispatched within 10 days of being approved by La Hacienda customer services.
3. Await your FREE logs to use with your La Hacienda fire pits and other La Hacienda products

In stock

- FREE STANDARD DELIVERY to most UK postcodes - Next Day Delivery Available

In stock

- FREE STANDARD DELIVERY to most UK postcodes - Next Day Delivery Available

In stock

- FREE STANDARD DELIVERY to most UK postcodes - Next Day Delivery Available

In stock

- FREE STANDARD DELIVERY to most UK postcodes - Next Day Delivery Available