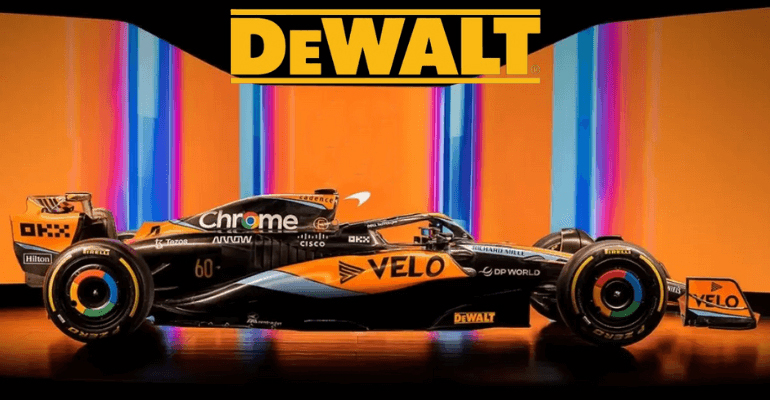 Dewalt Competitions 2023 - Win A McLaren Fan Experience To Silverstone 7-9th July 2023
Over the next few months Dewalt will be running a competition where you will be win a Dewalt Formula 1 McLaren Expeience!
Its very simple, Literally Black & Yellow, All you have to do enter is :
Spend £100 or More* On ANY Dewalt Products !

YOUR CHANCE TO WIN A MCLAREN FAN EXPERIENCE TO SILVERSTONE
Win two weekend tickets to the Silverstone Formula One Race Weekend 07.07.2023-09.07.2023
(plus McLaren team hoodie, t-shirt and cap).
To enter, spend £100 or more (inc VAT) on any DEWALT product(s) in one transaction on one receipt ("Qualifying Product")
On or between 11.05.2023 and 22.06.2023.
Open to UK residents aged 18 and over. Retain your proof of purchase to enter and to claim your prize if you are a winner. Closing date for entries is 23:59:59 on 23.06.23.No purchase necessary in Northern Ireland. Full Terms and Conditions apply.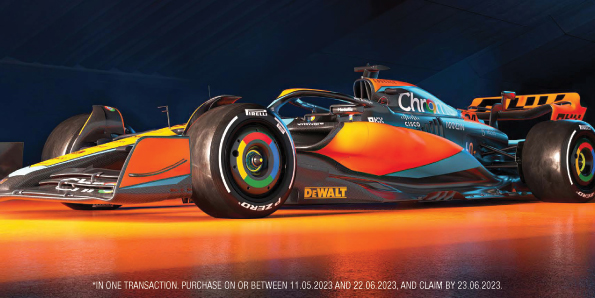 To Enter, please follow "HERE" On how to sumbmit your proof of purchase.
So Please keep hold of your Buyaparcel Dewalt purchase Invoice, as you will need to submit this like shown below.
This can be submited as a PDF or a picture you have taken on your phone.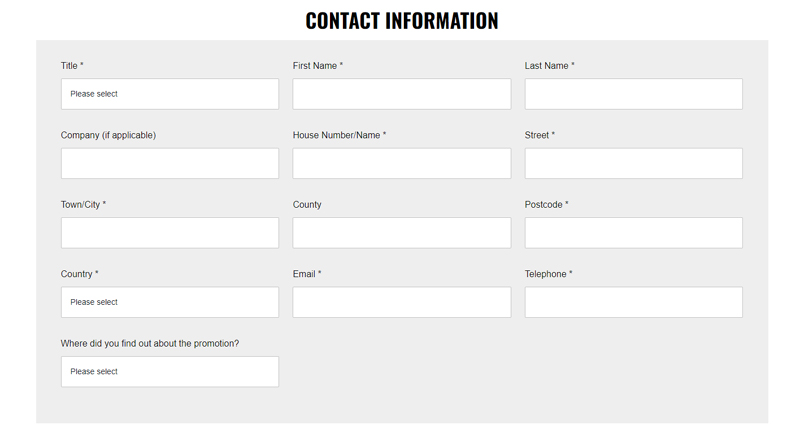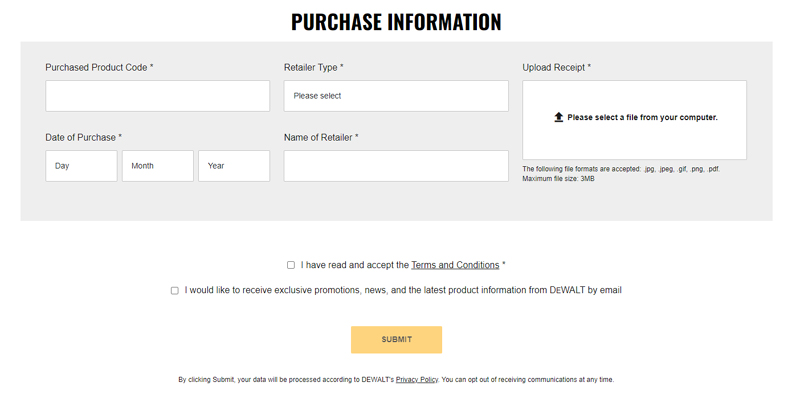 So now is the chance to see Formula 1 at the UK's most famous grand prix cicruit! And all you have to do is purchase some Dewalt Tools!
Who would of thought it could be so easy to be given the Ulimate fan thrill just for owning your favorite "Black & Yellow" Tool brand DeWalt!
The last McLaren Victory was Monza 2021 and it was said 'It is redemption day for Daniel Ricciardo!' so redeem your proof or purchase !
And Enter to be in with a chance to make history and maybe just maybe see a McLaren Victory with our well own Lando Norris !

Dewalt 25 Piece Impact Extreme PZ2 Pozi Screwdriver Bit Set FLEXTORQ Tough Case

Stock Code: DT70556T-QZ

In stock

- FREE STANDARD DELIVERY to most UK postcodes - Next Day Delivery Available

Dewalt DT7701 80mm Retracting Magnetic Screwdriver Bit Holder Finger Saver

Stock Code: DT7701-QZ

In stock

- FREE STANDARD DELIVERY to most UK postcodes - Next Day Delivery Available

Dewalt DCB547 18v / 54v XR FLEXVOLT 9.0ah Battery DCB547-XJ Cordless Flex Volt

Stock Code: DCB547-XJ

In stock

- FREE STANDARD DELIVERY to most UK postcodes - Next Day Delivery Available

Regular Price

£132.98

Special Price

£128.90

£107.42

Dewalt DCB546 18v / 54v XR FLEXVOLT 6.0ah Battery DCB546-XJ Cordless Flex Volt

Stock Code: DCB546-XJ

In stock

- FREE STANDARD DELIVERY to most UK postcodes - Next Day Delivery Available

Dewalt DCW604NT 18v XR Brushless Cordless 1/4" Router + Plunge Base + Trend Set

Stock Code: DCW604NT-SET/SS8X1/4TC

In stock

- FREE STANDARD DELIVERY to most UK postcodes - Next Day Delivery Available

In stock

- FREE STANDARD DELIVERY to most UK postcodes - Next Day Delivery Available

Dewalt DCS369N 18v XR Sub Compact Brushless Reciprocating Saw Bare Tstak +Blades

Stock Code: DCS369NT-BLADES

In stock

- FREE STANDARD DELIVERY to most UK postcodes - Next Day Delivery Available

Dewalt DT7612 Flip Drive Set Drill & Driver DT7612XJ Countersink Pilot Bits Case

Stock Code: DT7612XJ

In stock

- FREE STANDARD DELIVERY to most UK postcodes - Next Day Delivery Available

Dewalt DCM848N 18v Brushless Dual Action Polisher 125mm Bare + 6pc Polishing Kit

Stock Code: DCM848NWB-5SPKIT

In stock

- FREE STANDARD DELIVERY to most UK postcodes - Next Day Delivery Available

Dewalt DCV501LN 18v L-Class Stick Vacuum Cleaner Bare + Floor Accessories + Bag

Stock Code: DCV501LN-XJ

In stock

- FREE STANDARD DELIVERY to most UK postcodes - Next Day Delivery Available

Dewalt DCMPS567P1 18v XR Brushless Pole Saw Chainsaw Pruner Split Shaft -1X5.ah

Stock Code: DCMPS567P1-KIT

In stock

- FREE STANDARD DELIVERY to most UK postcodes - Next Day Delivery Available

Dewalt DCG405NT 18v XR Brushless Cordless 125mm Angle Grinder + 2 Diamond Blades

Stock Code: DCG405NT-2DB

In stock

- FREE STANDARD DELIVERY to most UK postcodes - Next Day Delivery Available

Dewalt DWST1-79210 Large Heavy Duty Tool Bag with Wheels and Carry Handle

Stock Code: DWST1-79210

In stock

- FREE STANDARD DELIVERY to most UK postcodes - Next Day Delivery Available

Dewalt DHS780T2 XR 2 X 54v Flexvolt Cordless 305mm Mitre Saw + DE7023 Leg Stand

Stock Code: DHS780T2-DE7023

In stock

- FREE STANDARD DELIVERY to most UK postcodes - Next Day Delivery Available

In stock

- FREE STANDARD DELIVERY to most UK postcodes - Next Day Delivery Available

Dewalt DCG405NT 18v XR Brushless Cordless 125mm Angle Grinder + 10 Thin Discs

Stock Code: DCG405NT-DT42335

In stock

- FREE STANDARD DELIVERY to most UK postcodes - Next Day Delivery Available

DeWalt DCLE34031D1 18V XR Compact Green Laser 3 x 360 Degree 2.0Ah + Tripod +Bag

Stock Code: DCLE34031D1_TRIPOD

In stock

- FREE STANDARD DELIVERY to most UK postcodes - Next Day Delivery Available

Dewalt DCB547 18v / 54v XR FLEXVOLT 9.0ah Battery DCB547-XJ - 4 Pack

Stock Code: DCB547_4

In stock

- FREE STANDARD DELIVERY to most UK postcodes - Next Day Delivery Available

Dewalt DWST82732-1 TSTAK Clipboard Organiser LED Light Internal Pouch Metal Clip

Stock Code: DWST82732-1

In stock

- FREE STANDARD DELIVERY to most UK postcodes - Next Day Delivery Available

Dewalt DCM565P1 18v XR 30cm Cordless Chainsaw Brushless - 1 x 5.0ah Battery

Stock Code: DCM565P1-KIT

Out of stock - This Product is Currently Unavailable