Dewalt Cashback Promotion 2021 - Claim £30 Cashback on 2 Qualifying Tools
When you buy any qualifying 2 bare 18v brushless tools in one transaction between November 1st and December 31st
*Terms and Conditions apply. See qualifying products below.
DCP580N-XJ, DCS334N-XJ, DCS335N-XJ, DCS367N-XJ,
DCS369N-XJ, DCS382N-XJ, DCS565N-XJ, DCS570N-XJ, DCS571N-XJ, DCS572N-XJ, DCW200N-XJ,
DCW210N-XJ, DCW604NT-XJ and DCW604N-XJ
How to enter the Dewalt £30 Cashback Promotion 2021
1- Buy any two qualifying Bare 18V XR Brushless Tools (see qualifying products below).
2- Log in to your MyDEWALT account using the sign in box below or create an account if you don't have one.
3 - Select the 'Redemptions & Competitions' section and follow the cashback banner.
4 - Complete the form, upload your receipt, and accept the terms and conditions.
At Buyaparcel we will supply you with a full VAT Receipt with the goods - this can be emailed on request in PDF
Please note this is valid on orders made via our website only. This is not valid on ebay orders.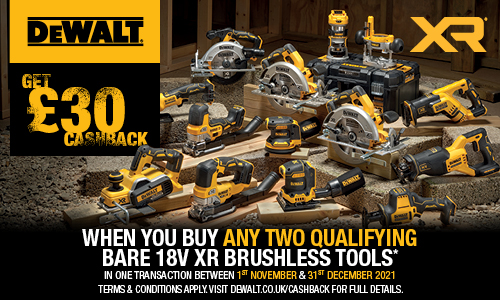 Full information available on the Dewalt Cashback Website
All Dewalt Cashback Qualifying product from Buyaparcel below when you buy 2 or more bare tools
This promotion has now ended