The Home For DeWalt 54v Flexvolt Batteries & Chargers @ Buyaparcel
Power and Potential, Charge for less and do more.
DeWalt 54V batteries have a standard slide fitting suitable for use with compatible DeWalt range. The Ah rating (Amperage hours) gives an indication of runtime and the higher the number the more battery use between charges.
They do not suffer from memory effect and charge quickly, are lightweight and have high capacity.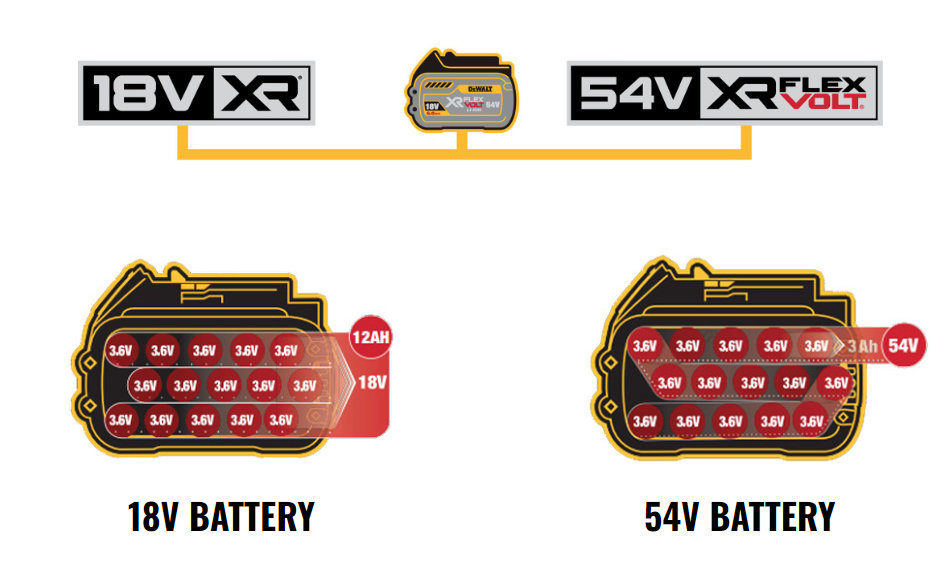 Fitted to 18V XR tools the cells inside the battery link in parallel: 5 cells in a series (5 x 3.6V = 18V) 3 string in parallel (3 x 4Ah = 12Ah) = 216Wh
Fitted to XR FLEXVOLT tools the cells link in series: 15 cells in a series (15 x 3.6V = 54V) 1 string in parallel (1 x 4Ah = 4Ah) = 216Wh
If you cant find what you are looking for here then check our complete Dewalt catalogue
Dewalt DCB546 18v / 54v XR FLEXVOLT 6.0ah Battery DCB546-XJ Cordless Flex Volt

Stock Code: DCB546-XJ

In stock

- FREE STANDARD DELIVERY to most UK postcodes - Next Day Delivery Available

Regular Price

£99.99

Special Price

£88.19

£73.49

Dewalt DCB116 18v / 54v XR Flexvolt Intelligent Fast Battery Charger LK DCB118

Stock Code: DCB116-GB

In stock

- FREE STANDARD DELIVERY to most UK postcodes - Next Day Delivery Available

Regular Price

£26.87

Special Price

£21.50

£17.92

Dewalt DCB548 18v / 54v XR Flexvolt 12.0ah Battery DCB548-XJ Flex Volt

Stock Code: DCB548-XJ

In stock

- FREE STANDARD DELIVERY to most UK postcodes - Next Day Delivery Available

Dewalt DCB546 18v / 54v XR Flexvolt 6.0ah Battery + DCB116 Fast Charger

Stock Code: DCB546_DCB116

In stock

- FREE STANDARD DELIVERY to most UK postcodes - Next Day Delivery Available

Regular Price

£124.99

Special Price

£109.24

£91.03