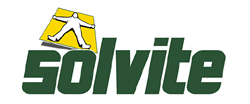 The No. 1 Wallpaper Adhesive brand has everything you need to strip out or apply wallpaper and it's approved and recommended by the British Painting and Decoration Association.
Solvite has been wallpapering Britain since 1964 and offers a range of adhesives to meet every wallpaper type, plus a range of preparation products that provide a good foundation for a superior finish.
Solvite has developed a range of adhesives to suit every wallpapering task and match any level of wallpapering experience.
Solvite 1584650 Wall Sealer 30m² SLV1584650

Stock Code: SLV1584650

Solvite 2713277 Wallpaper Repair Adhesive Tube SLV1574678

Stock Code: SLV1574678

Solvite 2713255 Overlap & Border Adhesive Tube SLV1574677

Stock Code: SLV1574677

Solvite 1591161 All Purpose Wallpaper Paste Sachet 10 Roll SLV1591159

Stock Code: SLV1591159

Solvite 1082225 All Purpose Wallpaper Paste Sachet 10 Roll + 50% Free SLVECCONOMY

Stock Code: SLVECCONOMY