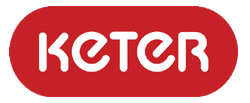 Keter is a world leading manufacturer of beautiful and durable home and garden products. Since the brand was formed, Keter have not stoppped innovating thanks to customer insight.
Their impressive range of storage, organisation and furniture solutions are crafted to combine durability, practicality and a great look. Unlike other materials, Keter products stay looking good, with no fading and minimal maintenance.
In a world where space is precious, Keter make every space count.
Keter Manor Grey Garden Shed 6 x 8 ft Apex Outdoor Storage Wood Effect Resin

Stock Code: 230256

Keter Manor Grey Garden Shed 6 x 5 ft Apex Outdoor Storage Wood Effect Resin

Stock Code: 230255