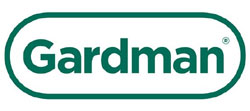 Gardman have been the UK's leading garden supplier since 1992. Their unrivaled level of expertise has seen Gardman establish several brands including Gardman Wild Bird Care, the UK's number 1 bird care range.
Other popular brand include the Cole & Bright ligthing, Moulton MIll tools, Grow it gardening essentials and Edenbloom for those finishing decorative touches.
Gardman are known as one of the UK's leading garden products suppliers with over 4,000 lines across categories such as core gardening, garden living, homestyle accessories, garden leisure and wild bird care.
Gardman Replacement Cover PVC 4 Tier Compact Mini Greenhouse Growhouse

Stock Code: 08702

In stock

- FREE STANDARD DELIVERY to most UK postcodes - Next Day Delivery Available

In stock

- FREE STANDARD DELIVERY to most UK postcodes - Next Day Delivery Available

Gardman Walk In Polytunnel Replacement Reinforced Cover PE Greenhouse

Stock Code: 70200428

In stock

- FREE STANDARD DELIVERY to most UK postcodes - Next Day Delivery Available