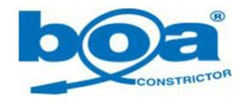 In 1994 the world's first Multi-use strap wrench was developed. Boa the company was set up two years later to market and distribute this product on a global basis, the boa constrictor strap wrench sold in excess of 15 million units making it a phenomenally successful invention and building on this success Boa went on to develop world first's in many areas of the hand tool and power tool accessory markets.
From its entrepreneurial roots Boa continues to invent and develop products building on its foundations of innovation, quality and functionality.
The Boa Team continues to make giant steps in developing new products and technologies in the hand and power-tool accessories industries, revitalising product sectors that are considered to be mature and creating new product sectors through their patented ideas. This along with their reputation for bringing real new ideas to the market make them one of the most admired companies in their market sector as well as one of the fastest growing.