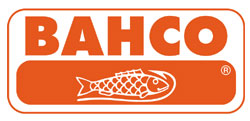 The iconic brand Bahco was founded back in 1886 making it one of the longest established names in the industry. It is still a symbol of quality and is represented by
The iconic brand Bahco was founded back in 1886 making it one of the longest established names in the industry. It is still a symbol of quality and is represented by the "little fish and hook" logo.
From high quality steel fish hooks eventually evolved saw blades, every blade still carries the Fish and Hook trademark to this day. The innovation did not stop there, in 1891 Bahco invented the adjustable spanner which formed the basis for the adjustable wrench. This product has evolved into many forms such as the 9031, 9031T and 80 series, all with unique features to get the job done.
Other products of note are the bi-metal Sandflex® blades, the world's first ergonomic screwdrivers and their extensive range of socket sets. Bahco pride themselves on building long-term partnerships with their distributers and buyaparel.com are proud to be included in this.
Bahco is SNA Europe's (a fully owned subsidiary of Snap-on Incorporated; NYSE: SNA) flagship brand and is distributed in all continents.
...
Bahco Heavy Duty Cable Stripper Cutter Pliers 200mm 2233D-200 BAH2233D200

Stock Code: 2233D-200

Bahco 8071 BAH8071 Black Adjustable Wrench 200mm 8in High Torque

Stock Code: BAH8071

Bahco 54 Piece Screwdriver Long 125mm +25mm Bit Set BAH59S54B 59/S54B XMS19SET54

Stock Code: 59/S54B

Bahco 1/2 Inch Square Socket Extension Bar 125 mm length 8160-1/2

Stock Code: 8160-1/2

Bahco 2058/S26 26 Piece Ratchet Socket Bit Set 1/4in Drive PZ PH Hx Torx Slotted

Stock Code: 2058/S26

Bahco Swivel Head 270 Degree Ratchet Handel 1/2 Inch Drive 8120-1/2

Stock Code: 8120-1/2

Bahco KGSU-01 Good Sports Utility Trimming Knife Durable Handle Locking System

Stock Code: KGSU-01

BAHCO PRO Squeeze Heavy Duty Trimming Utility Work Quick Change Knife, SQZ150003

Stock Code: BAHSQZ150003

Bahco Ergo Retractable Blade Utility Knife Handle KERU-01 BAHERGORK

Stock Code: KERU-01

Bahco KE18-01 18mm Ergo Snap Off Blade Knife with Blade Storage

Stock Code: KE18-01

Bahco KEFU-01 Ergo Utility Knife with Blade Storage BAHERGOFK

Stock Code: KEFU-01

Bahco S4RM-16-19 Reversible 4-in-1 Ratchet Spanners 16mm / 17mm / 18mm / 19mm

Stock Code: S4RM-16-19

x10 Bahco 244 Hardpoint 22" Hand Saw Medium Cut 500mm BAH24422 244-22-U7/8HP

Stock Code: BAH24422_10

Bahco 25mm Wrecking Chisel Wood Splitter Scraper and Holster 2448 SB-2448

Stock Code: BAH2448

Bahco 1-478-08-1-2 5 Piece Engineers 8" Handled File Set & Roll Up Wallet

Stock Code: 1-478-08-1-2

Bahco NP-22-U7/8-HP SE22 Prizecut Hardpoint Saw All Wood 7TPI 550mm 22" BAHSE22

Stock Code: BAHSE22

Bahco 317 BAH317 Hacksaw Frame + Junior Saw 239 BAH239 Twin Pack XMS19HACK2

Stock Code: BAH317_BAH239
Bahco Iconic Premium Hand Tools

For 165 years Bahco have been developing and producing premium hand tools, always with the emphasis on quality and durability. This journey began with the worlds first saw blade invented by Göran Fredrik Göransson in Sweden. To communicate their quality, every blade carried the Fish and Hook trademark and still do to this day. You can read the full historical hook and fish story on Bahcos website.
Here at buyaparcel.com we have had a great trading relationship with Bahco for decades. One of the earliest products we listed online back in the 00s is the Laplander Pruning Saw. Represented with the affore mentioned hook and fish to show its blade quality. It has also been endorsed by Ray Mears the famous British woodsman. 
1400 Hand Tools and Counting
Bahco currently categorise their products into 38 categories totalling nearly 14,000 hand tools and that does not include the growing range of powertools and of course power tool accessories. At nearly 300 Bahco products listed to date buyaparcel.com have many of the flagship products available as well as some more niche tools. Almost half of the Bahco products stocked by us come under the saws section, whether this is handsaws, hacksaws and blades, bowsaws and blades, fret saws or pruning saws.
We are also very proud to hold a good selection of Bahcos award winning socket sets in stock. From the iconic and essential part of everyone's tool set the S330 to new additions like the SW79. The SW79 is amongst a new range of socket sets that all include a 360 degree swivel head ratchet handle. Ideal for getting maximum purchase at all angles. 
Over the years Bahco have won many awards for their products such as the Swedish Design award for Ergo Combination Pliers, Ergo Adjustable Wrenches and Ergo Screwdrivers. Other awards include the reddot design award for Bahco Measuring Tapes, Hacksaw Frame 317 and Bahco Fit Screwdrivers.